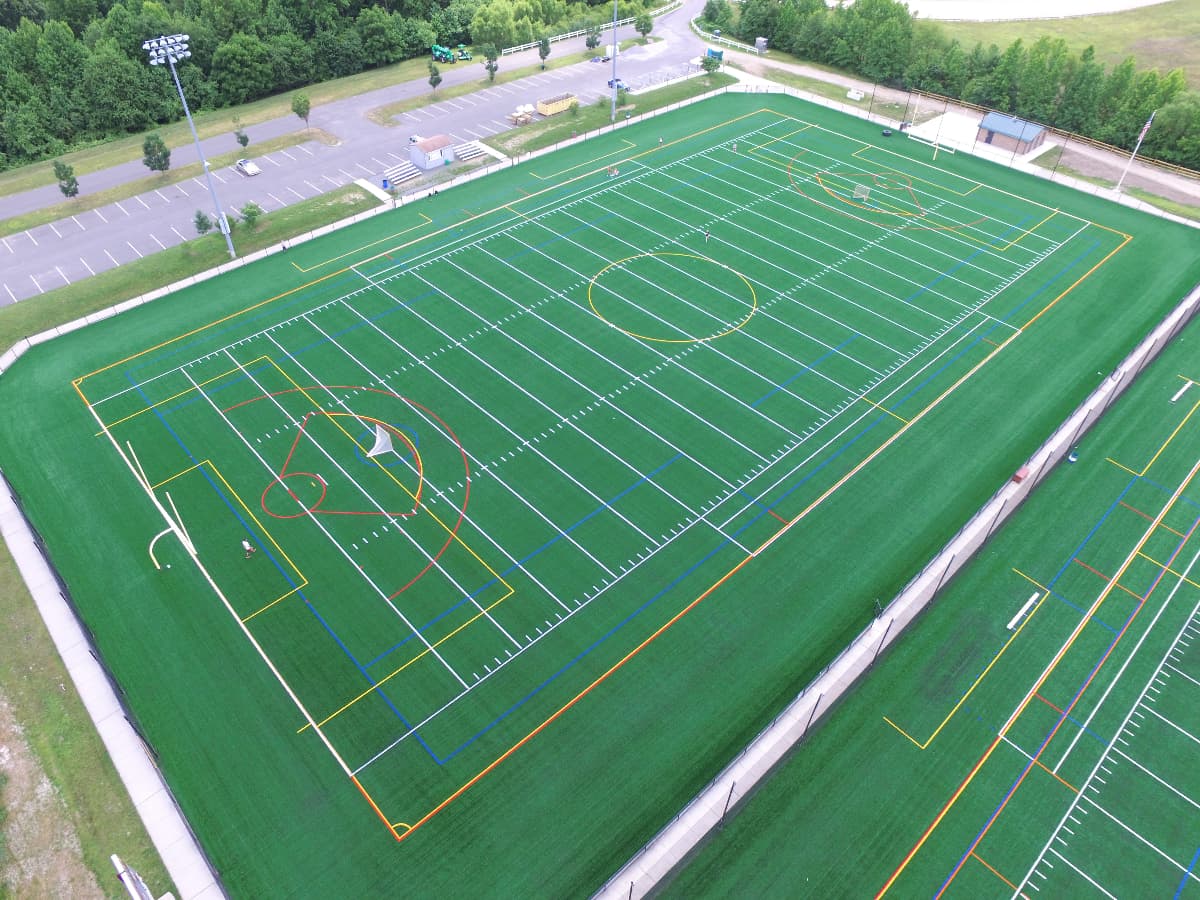 Choose artificial turf for your athletic field to eliminate lost playing time, excessive maintenance, and other hassles of natural turf. American Athletic Track and Turf has been installing high-quality artificial turf for schools, universities, and other facilities on the East Coast since 1983. Our devoted staff has the experience and skills to create the artificial turf field of your dreams, and we're sharing some of our best tips on how to get started.
Planning and Design
The process of creating your artificial turf field begins with planning and designing. It's imperative to do your research and complete certain steps that are crucial to the success of your athletic field. These steps include:
Decide on a Site
When developing the preliminary plans for your athletic field, you first have to determine your site and what type of sport will be played on your field. It's also important to consider other factors, like the number of people that will generally use the field, the number of teams and players, and the frequency of games and practices.
You will have to perform a field assessment to analyze the condition of your prospective field to determine factors that can influence the condition and performance of the field. Almost all locations will require you to obtain permits, including construction permits, field permits, and occupancy permits.
Decide on Your In-Fill Material
You will need to decide on an in-fill material for your field, which is used to create the ballast required to keep the turf in place. In-fill material also provides the appropriate cushioning effect and minimum GMAX to ensure your field will be within requirements. The most popular choice for in-fill in North America is made of recycled tire granules with or without a sand component. However, there are an increasing amount of clients who want more natural options, such as using virgin rubber, coconut strands, cork, and more.
Artificial Turf Benefits
Artificial turf fields are not only an attractive and professional-looking option, but they also offer a host of benefits and advantages over natural turf fields. These benefits include:
Cost-effective because of long-lasting value
Less maintenance than grass, with no mowing, reseeding, fertilizer, and the like required
Drought-resistant and does not require watering
Weather-resistant, as built-in drainage eliminates mud, puddles, and ice
Safe surface with fewer ruts and depressions for a reduced risk of injury and improved playtime
Environmentally friendly design that can count toward multiple LEED (Leadership in Energy and Environmental Design) credits for green building certification

Choosing the Right Artificial Turf Field Installation Company
If you're ready to get started on your artificial turf installation, depend on the experts at the 12-time award-winning artificial field turf installation company, American Athletic. We perform practically every significant aspect of field construction without using subcontractors. Our builders are American Sports Builder's Association (ASBA)-certified and use advanced technology and design principles combined with extensive industry experience to ensure you'll be satisfied with your project. Our tried-and-true methods and procedures are backed by a comprehensive warranty that fully protects your investment and gives you added peace of mind.
Our offices are located in Southampton Township, New Jersey, and Haines City, Florida, but we serve areas on the East Coast from Southern Massachusetts, Eastern Pennsylvania, Delaware, Connecticut, and more. Request a quote on artificial turf installation today.