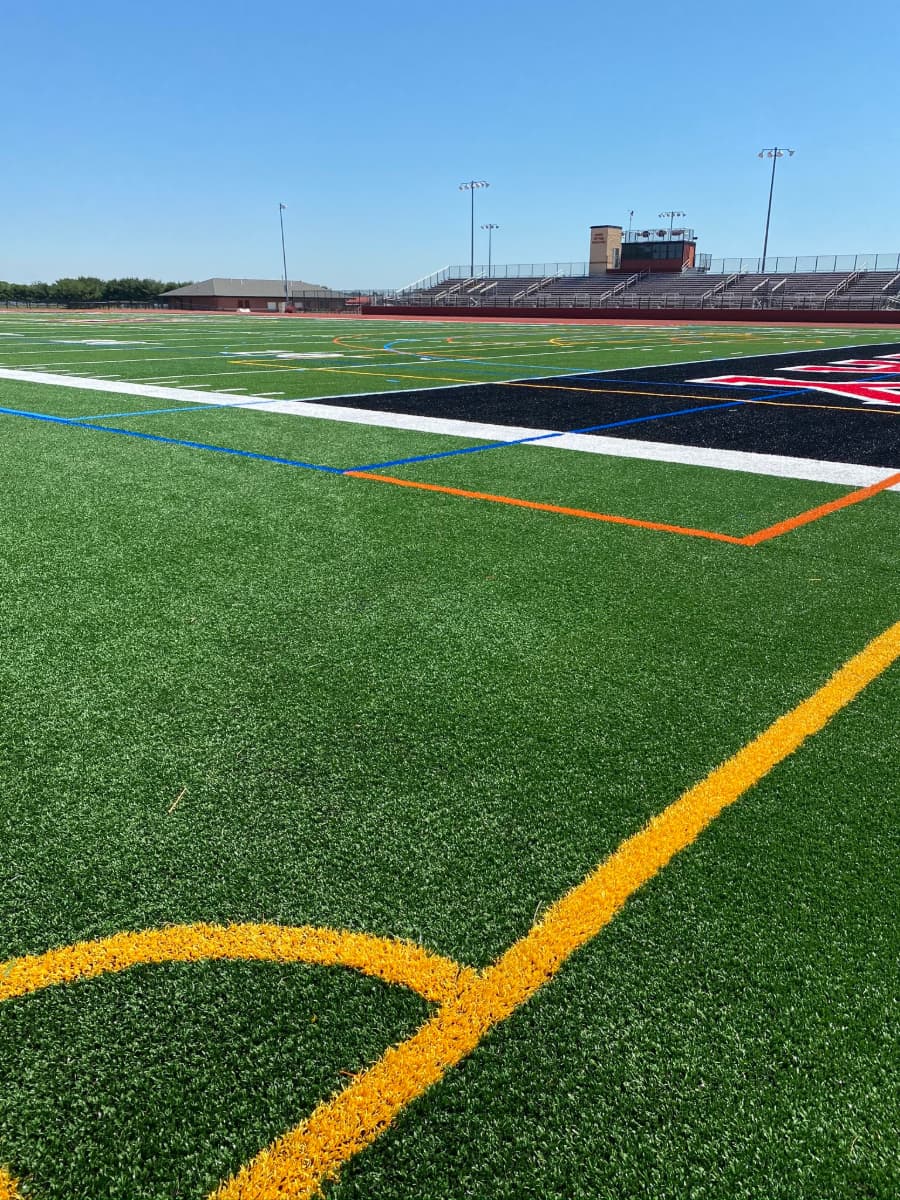 One of the most important components of your school or facility's running track and artificial turf fields is drainage. These systems remove excess water from the surface and should be adequate to prevent the inconvenient and unsafe consequences of pooled water, mud, and ice. For many facilities, however, poor drainage can be the result of improper track or turf installation or systems that have simply aged out and need to be replaced. American Athletic Track and Turf discusses the importance of having proper drainage for your track and field and look at the advantages our built-in drainage systems can provide.
What Is a Track or Field Drainage System?
It might sound self-explanatory, but for athletic tracks and fields, drainage systems are complex. This equipment must be properly installed to effectively drain excess water from the surface and of high quality to prevent the need for frequent, costly repairs.
While there are many types of drainage systems available for tracks and turf fields, they're not all created equally. At American Athletic, we have the utmost confidence in our built-in drainage systems, which are developed with sophisticated design principles, installed with advanced laser technology, and backed by decades of experience.
Avoid Problems with the Right Drainage System
Whether your current system is outdated, you're noticing ponding water, or your facility is installing a brand-new track or turf field, ensuring your design includes the right drainage system is key. Without the proper drainage in place, your track or field is subject to a host of issues that could negatively impact its use, including:
Soil erosion leading to unstable grounds
Unsafe conditions due to slippery surfaces, cracks from water damage, and more that could result in injuries to athletes, students, or other members of your community that could lead to subsequent lawsuits against you
Canceled competitions or games due to unsafe conditions, causing the headache of rescheduling and related athletic costs
The need for costly resurfacing, drainage system replacements, and other avoidable repairs
Why Choose Built-In Drainage from American Athletic?
The built-in drainage systems from American Athletic are available in standard and specialty configurations and designed to combat the issues that plague other types of track and turf drainage systems. During installation, our team of American Sports Builders Association (ASBA)-certified builders first prepare the site with excavation, fills, and laser-controlled fine grading before the built-in drainage system is put into place. The system is customizable to your facility's needs and may include the following components:
Flat drains
Slot drains
Channels
Laser-controlled stone matrix
Our clients report long-lasting, cost-effective success with our built-in drainage systems, which are backed by our Platinum Protection Warranties, and have seen a decrease in game delays and cancellations and the need for frequent maintenance. More importantly, their athletic surfaces have also been enhanced in safety. Learn more about how they can benefit your school or facility by viewing our case studies.
Learn More About Track and Turf Drainage
Serving schools and facilities in New Jersey and along the East Coast, American Athletic brings the specialized sports construction experience and insight needed to correctly install your new track or turf field and ensure it functions properly for years to come. For more information about our built-in drainage systems for your athletic facility needs, contact us today.