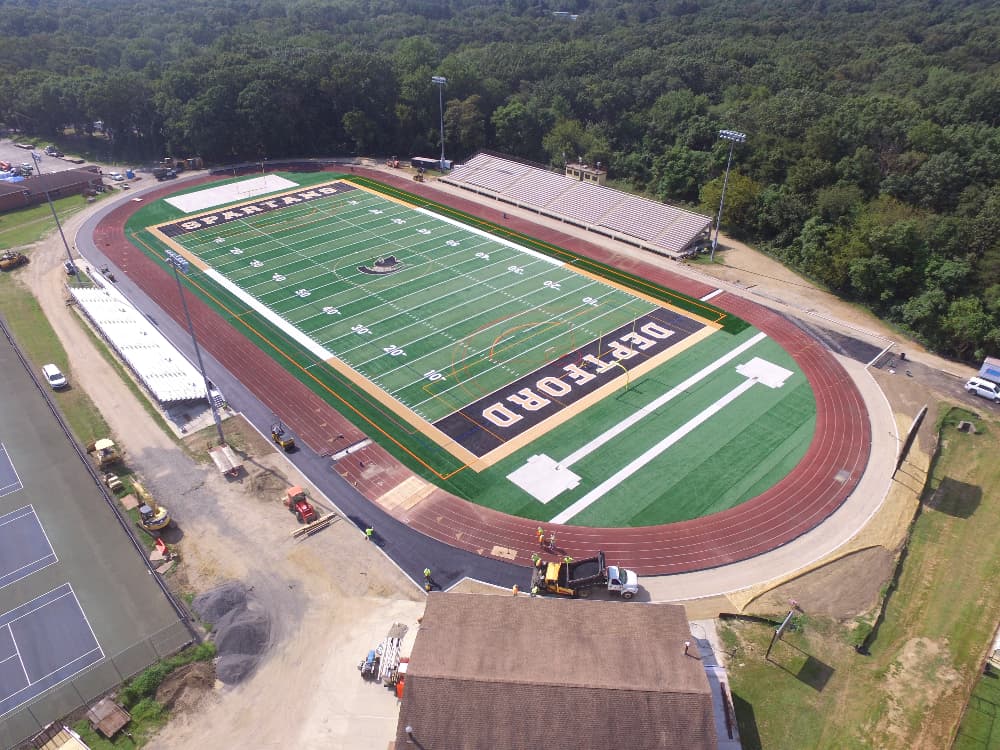 If your athletic facility needs a major update or renovation, you may be wondering about how sports field construction works. Installing artificial turf, running tracks, or tennis courts requires a qualified, experienced contractor who understands each step of the construction process. American Athletic Track and Turf is based in Southampton Township, NJ, and Haines City, FL, and our service areas include Eastern Pennsylvania, Southern Massachusetts, Delaware, Connecticut, New Hampshire, Rhode Island, Vermont, and Florida. Below, we draw on our more than 25 years of experience to share a few insights into artificial turf installation.
The Planning and Installation Process
Every project is unique, and certain site factors can make the turf installation process longer or shorter. But in general, the steps to build a new athletic field are:
Site selection: First, you'll need to determine your site and the type of sports that will be played there. A site assessment to analyze the condition of the prospective field will help you plan for any specific challenges. You'll also need to obtain the necessary permits for site use and construction work.
Choose in-fill: Once your site is ready, you'll need to select an in-fill material. In-fill helps to hold the turf in place, absorbs impact, and provides cushioning. Popular options for in-fill material include recycled tire granules, sand, and cork.
Choose turf: Your field may be used primarily for football, soccer, field hockey, or another sport. You'll have the option to choose between several different types of monofilament, dual fiber, and slit-film turf materials.
There are many variables you'll need to consider – how frequently the field will be used, the climate in your area, the level and drainage of the current site, and your project budget. To assist clients with the planning process, American Athletic Track and Turf offers a site evaluation guide.
Benefits of Artificial Turf
Often when we meet with facilities directors who are looking to upgrade their athletic fields, they are trying to decide between grass and artificial turf. The advantages of using artificial turf include:
Cost-effective: Turf holds up for years to come, lowering your annual maintenance costs (and you won't spend money on fertilizer or grass seed).
Low maintenance: Unlike grass, turf doesn't require mowing, watering, or weeding.
Weather-resistant: With built-in drainage, you won't need to worry about flooding, mud, or ice.
Safe for athletes: Grass fields naturally develop depressions and low spots that can lead to athletic injuries. With turf, you can be confident that you have a safe playing surface.
SmartBuy Cooperative Purchasing Program
The SmartBuy Cooperative Purchasing Program allows athletic directors and facilities managers to acquire sports surfaces through cooperative purchasing contracts. The program comprises multiple cooperative purchasing agencies and is organized through Tarkett Sports.
With the SmartBuy Cooperative Purchasing Program, you'll get the benefit of competitive pricing without having to go through the public bid process. The program uses cooperative purchasing contracts to offer school districts and municipalities turnkey project solutions and preferential pricing.
Unlike the traditional bid method process, which can be extremely time-consuming, you don't need to issue a public bid for an artificial turf field and vet multiple applications. Instead, you can simply contact American Athletic Track and Turf for a site evaluation. We'll issue you a quote and as soon as you have a purchase order, we can get started on your project, greatly reducing the amount of time needed for the project. The SmartBuy Cooperative Purchasing Program is available nationwide and gives customers access to a full product line of sports surface products from FieldTurf and Beynon.
An Experienced and Professional Team
When you choose American Athletic Track and Turf, you can rest assured you are selecting a qualified contractor. We are proud to have both Certified Track Builders and Certified Field Builders on our staff accredited through American Sports Builders Association (ASBA) certification programs. ASBA offers professional Certified Track Builder (CTB) and Certified Field Builder (CFB) programs to establish high standards for knowledge in sports field construction, maintenance, and repair.
American Athletic Track and Turf has been recognized many times over with multiple national ASBA awards for our work in athletic field construction. In addition to our membership with ASBA, we hold professional affiliations with the following industry groups:
We welcome customers to read more about our qualifications and awards.
Choose a Professional for Your Athletic Field Project
If you're ready to get started on your artificial turf installation, American Athletic Track and Turf is here to help. Our team of experienced technicians will walk you through each step of our process and answer any questions you have. With offices in Southampton Township, NJ, and Haines City, FL, we serve clients in:
Connecticut
Delaware
Florida
Maine
Southern Massachusetts
New Hampshire
New Jersey
Eastern Pennsylvania
Rhode Island
Vermont
Our products are backed by excellent warranties, and we're always on call when our clients need repairs or maintenance down the road. To learn more or to request a quote, call us at 800-427-5705 or contact American Athletic Track and Turf today.