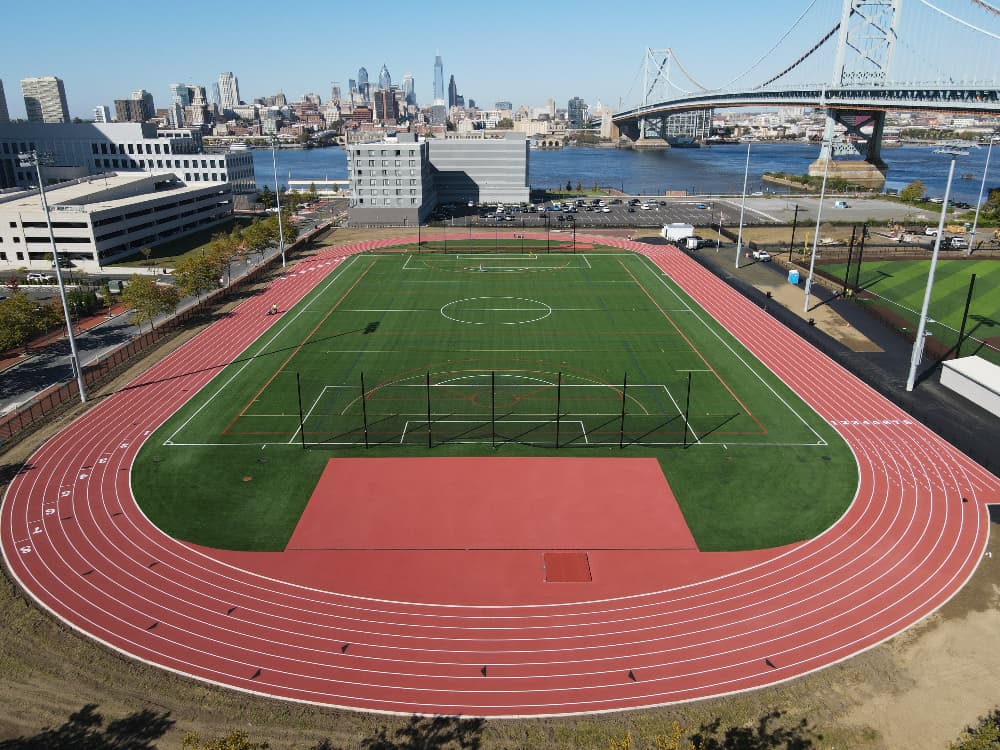 Whether you're an athletic director or a school administrator, you know the power of school spirit. If you're thinking about investing in a new outdoor running track for your athletic facility, make sure you are choosing a reliable service provider who uses high-quality athletic surface products with proven results. To help your project truly shine, you can select custom colors for your outdoor track. Here, American Athletic Track and Turf, serving Northeast coastal states and Florida, explains how.
Customizable Athletic Surfaces
When you picture an outdoor running track, you might envision a classic brick red. This is the most popular color for outdoor running tracks because it is the most resistant to ultraviolet (UV) rays. However, tracks can be customized in a wide range of shades to match your school colors or facility branding. At American Athletic Track and Turf, we use Beynon Sports Surfaces brand products, known for their durability and performance. Some of the leading educational institutions in the country use Beynon Sports Surfaces systems, including Duke University, Harvard University, Middlebury College, and the University of Virginia.
Many schools have two official colors that are reflected in their logo and mascot. If you would like to feature both colors on your running track, you can use one color for the majority of the track, and highlight with the second color in specific areas, such as passing zones. Or, if you prefer one single color to represent your school, you can choose from a wide range of options.
American Athletic Track and Turf also installs and maintains tennis courts. For tennis court projects, we use the Nova Sports U.S.A. Novacrylic Combination Surface system, which is available in multiple colors to match your school's branding. You can find product specifications for all our sports surfaces on American Athletic's Smart Start Toolbox page.
Fast-Track Your Project with Co-op Purchasing
A traditional bid process for an outdoor track can go on for months – once you've budgeted out your project, you'll need to advertise the bidding process, collect bids, and vet each contractor. In contrast, the SmartBuy Cooperative Purchasing Program allows schools to buy project materials at pre-negotiated prices through cooperative purchasing contracts. The program is comprised of multiple cooperative purchasing agencies, including:
Association of Educational Purchasing Agencies (AEPA)
The Cooperative Purchasing Network (TCPN)
General Services Administration (GSA)
National Cooperative Purchasing Alliance (NCPA)
COSTARS Cooperative Purchasing Program
Through these cooperative agreements, schools and municipalities can purchase materials for sports field construction projects, including Beynon running tracks and FieldTurf synthetic turf. Rather than issuing a request for proposals, a school can simply contact American Athletic for a comprehensive site evaluation and a complimentary quote.
Once you've issued a purchase order, we can start construction as quickly as possible. Your team will have more control over the final product, and you can significantly shorten your project timeline by omitting the bid process. Over 1,000 customers nationwide have used this co-op purchasing program to purchase sports surfaces and related site work.
Expertise in Sports Field Construction
When you choose American Athletic, you can be confident that you're working with a qualified and experienced professional. We've been in business since 1983, and our work has been recognized many times over with national awards from the American Sports Builders Association (ASBA). To provide the best products and latest technologies in track construction, we hold professional partnerships with:
American Sports Builders Association
Sports Field Management Association
Tennis Industry Association
Associated Builders and Contractors, Inc.
Beynon Sports Surfaces
FieldTurf
Nova Sports USA
Our installations are backed by strong manufacturer warranties as well as our skilled maintenance and repair services.
Get in Touch With American Athletic Track and Turf
For an outstanding outdoor running track that will serve your athletes for years to come, count on American Athletic Track and Turf. Our experienced team includes ASBA-certified track builders and field builders, who are industry experts in athletic surface planning, construction, and repair. In addition to running tracks, American Athletic offers services for tennis courts and artificial turf fields. Although we are based in New Jersey, we work with athletic directors and facilities managers up and down the East Coast, from New England to Florida. To learn more or request a project quote, please contact us today.