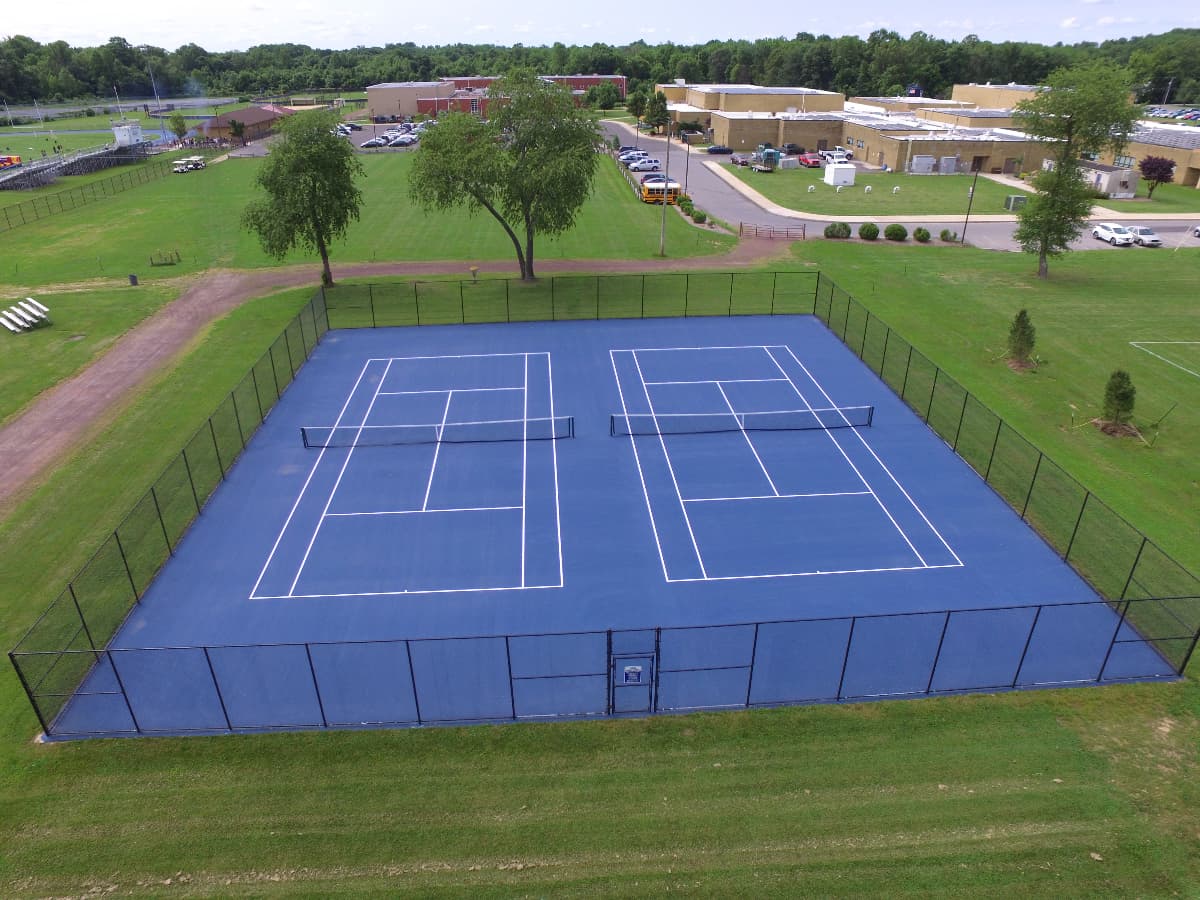 Sports facilities are prone to the impacts of weather and other degradation over time, regardless of the quality of the original construction. For tennis courts in particular, keeping your facility in playable condition requires regular maintenance and proper repairs. The experts at American Athletic Track and Turf perform many types of tennis court repairs and maintenance services, including resurfacing, restriping, and soft spot filling and repair. Here, we delve into the levels of tennis court remediation we offer to athletic facilities across the East Coast.
Reasons for Tennis Court Remediation
Tennis courts can be damaged throughout the year by temperature changes, water damage, freezing, and other factors. Natural wear-and-tear may also diminish the appearance of your court, making it less appealing to both athletes and spectators. Common reasons for tennis court remediation include:
Cracks
Uneven surfaces
Depressions and puddles
Fading colors
And more…
Damage to your tennis court doesn't only look unprofessional, but it also becomes a trip hazard, can lead to injuries, and impact the speed and condition of the game.
Our Repair Process
Our tennis court remediation process has levels with different steps that are recommended based on the amount of damage to your court. These levels and their corresponding steps include:
Level 1
Level 1 remediation includes cleaning your court and filling cracks with a conventional tennis court crack filler. There is also the option to ColorCoat the cracks, stripes, or full court with multiple coats of tennis court paint.
Level 2
Level 2 remediation includes cleaning the court, filling cracks, and applying a crack protection membrane system such as Rite Way. We will also ColorCoat and restripe tennis courts as your budget allows.
Level 3
Level 3 remediation includes cleaning your court and filling cracks with stone dust or another suitable crack filler with a rubberized asphalt base. We will stone-dust overlay the existing court and/or apply a geo-textile paving membrane with asphalt cement or other approved asphalt base tack coat. Then, two layers of State DOT asphalt mixture and ColorCoat will be applied with restriping.
Level 4A
Level 4A remediation is the complete rebuilding of a tennis court with an entirely new stone base, two layers of State DOT asphalt mixture, ColorCoat application, and restriping. New net posts will need to be installed, as well.
Level 4B
Level 4B remediation includes leveling the asphalt wherever needed by grinding high spots or patching low spots. The court will be cleaned and cracks will be filled, and then a sheet membrane such as NGI will be applied over the entire court.
Learn More about Tennis Court Remediation
All types of athletic facilities require proper maintenance to provide safe and long-lasting spaces for athletes and community members to gather and play. At American Athletic, we have a committed team of sports construction experts with more than 150 years of combined experience that provide a variety of repair and maintenance services for sports facilities, athletic tracks and fields, and tennis courts. To determine what level of tennis court remediation will be best for your East Coast tennis courts, contact American Athletic Track and Turf today.