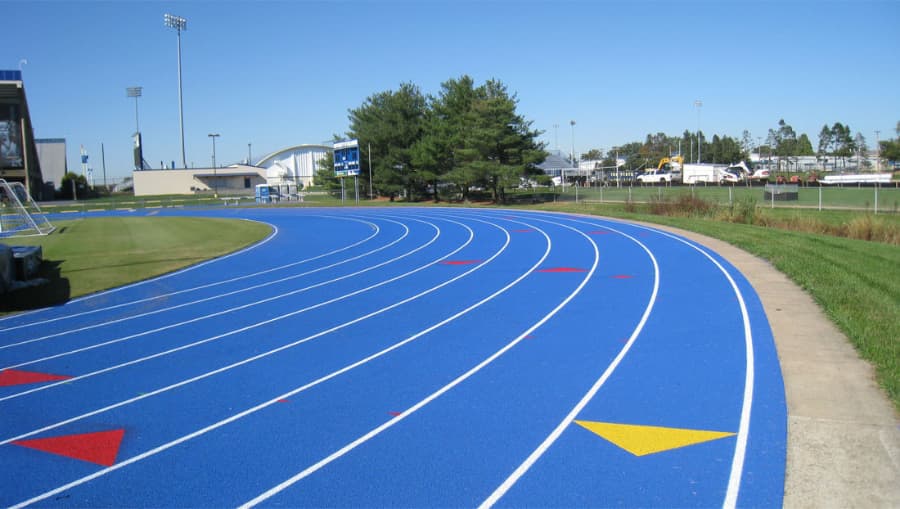 When giving your running track or tennis court a make-over, it's important to hire someone with the knowledge and expertise on what it takes to provide a surface that is safe for the people using it. A lot of owners and designers will cut corners on these aspects to save money on renovations. This can make your running track or tennis court unsafe to use and can impact the longevity of your facility. American Athletic Track and Turf is here to guide you on what aspects you should focus on most when upgrading your sports facility. Learn more about the proper mill and overlay techniques.
The Problem with Simple Mill and Overlay
According to Mary Helen Sprecher with the ASBA, the biggest mistake an owner or designer can make is treating their tennis court or running track like a street or parking lot. In other words, some owners and designers will design their track or tennis court according to simple parking lot requirements to reduce costs. But this can lead to problems in the long run, causing gouges, grooves, and other variations that can make for an unsafe surface for players and runners using the facility. For your tennis court or running track to be recognized as an official facility, there are certain requirements that your athletic center must meet in terms of surface thickness and materials used.
The Solution
Hiring a knowledgeable contractor can prevent issues with your running track or tennis court in the long run, using high-quality technology and resources to give your community the facility they deserve. Two crucial aspects of construction should be utilized to provide longevity to your track's surface, including:
Scratch Asphalt Leveling Course
Using a scratch asphalt leveling course is usually a step that's forgotten about, but it can do wonders to the longevity and safety of your running track or tennis court. A scratch asphalt leveling course is typically installed over your existing layer of asphalt, providing a smooth surface layer before pouring the top layer of your track or court. This will prevent grooves and imperfections from appearing on the top surface layer after installation is over. It can also be used to ensure proper drainage, as well as meet the thickness requirements of an official sports facility.
Laser-Controlled Construction
If your running track or tennis court is compatible, using laser controls to true-up milled surfaces can ensure high quality and longevity in your facility. With laser-controlled grading and laser-controlled paving, this allows for proper base and paving installation, as well as the tightest design tolerances possible. Make sure to choose a contractor who specializes in laser-controlled construction if you want your facility to remain safe and sound for years to come.
Protect your investment in your athletic center by ensuring you are utilizing the highest-quality tools and materials. With both a scratch asphalt leveling course and laser-controlled construction, you are sure to provide the safest possible environment for patrons to practice and run at their discretion.
Choose American Athletic Track and Turf
For over 25 years, American Athletic has been providing schools, universities, municipalities, and more with next-level athletic facilities that they can be proud of. Serving communities in a variety of states including Eastern Pennsylvania, Southern Massachusetts, Delaware, Connecticut, New Hampshire, Rhode Island, Vermont, Florida, New Jersey, and Maine, we are here for you and all of your sports facility renovation needs. For more information on our proper mill and overlay practices, contact our experts today.