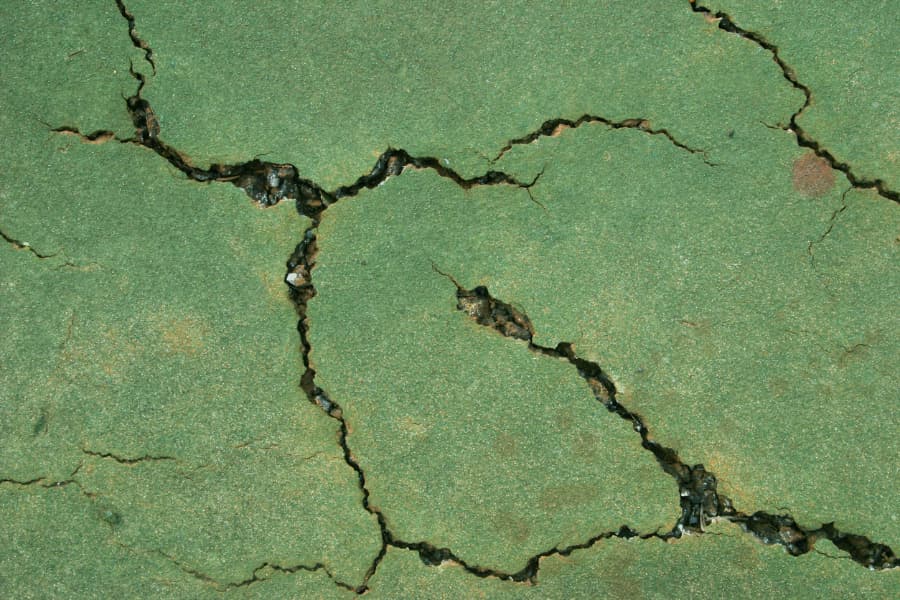 Cracks on a tennis court are not only an eyesore but they can also be potentially hazardous. Therefore, proper tennis court repair is crucial to ensuring players can use the space safely. Athletic directors and business directors for public high schools who wish to keep their tennis courts in pristine condition should consider the services of American Athletic Track and Turf.
Since 1983, we have provided athletic facilities in eastern Pennsylvania, southern Massachusetts, Delaware, Connecticut, New Hampshire, Rhode Island, Vermont, New Jersey, Maine, and Florida with award-winning services, including tennis court repairs and maintenance. Learn more about the reasons your tennis court may be showing signs of aging and how American Athletic Track and Turf can help you keep your court safe and appealing.
Why Does a Tennis Court Crack?
Visually appealing and long-lasting asphalt tennis courts bring tremendous value to schools and public athletic facilities. However, over time, these courts can develop cracks, causing them to lose their integrity and worth. There are several reasons a court may start to develop cracks, including:
Age
Asphalt is the most common type of building material used when constructing a tennis court. It is an excellent choice because it slowly cures over time. Meaning, when it is first poured, it is pliable and soft. This allows the asphalt to withstand severe winter temperatures, flexing as needed.
As the asphalt ages, it becomes harder, resulting in less flexing and a more brittle consistency. When brittle, asphalt may experience stress from frost or a sudden decrease in temperature, causing cracks to form. These cracks may be small and hard to notice at first but will eventually increase in size as time goes on. More so, if water enters a crack and then freezes, the crack will widen significantly and grow in length.
Foundation
Where your court resides may factor into the development of cracks. Areas on the court that are settling or sinking indicate a clear sign of poor sub-base construction. Noticeable settling is generally caused by something underneath the tennis court surface, creating cracks within the court's surface. Often, these conditions can render the court unusable.
Are Tennis Court Repairs Worth It?
When your tennis court develops cracks, you must decide whether to get it repaired. Be aware that ignoring the issue could have irreversible repercussions. Reasons to address cracks in your tennis court right away include:
Player's Safety
The safety of athletes and others should always be a top priory for athletic directors and athletic facility managers. Tennis courts with cracks and other damage provide unsafe playing conditions which can result in serious injuries. To maintain players' safety, treat cracks as soon as they begin to form.
Maintain Appearance
Properly maintained tennis courts can enhance the overall look of an athletic facility or park. The vibrant colors of a tennis court contrasted with the crisp white lines offer a beautiful and well-organized sight. Cracks not only diminish a tennis court's function but ruin its appearance. To help maintain your tennis court's visual appeal, repair cracks as soon as you see them.
Increase Court's Longevity
How long a tennis court lasts is determined by a variety of factors. One way athletic directors and business directors for public schools can ensure their courts remain in good condition is by staying ahead of cracks and damages. This process requires keeping the court clean and regularly inspecting its surface. Doing so will allow you to address cracks before they require more in-depth solutions.
Tennis Court Repair at American Athletic Track and Turf
Athletic and business directors for public high schools looking for professional and high-quality tennis court repair services should consider working with the qualified team at American Athletic Track and Turf.
The advantages of working with American Athletic Track and Turf go beyond our award-winning services. Our SmartBuy co-op purchasing program helps clients save time and money and allows them to have more control over the final product when compared with the traditional bidding process. Additionally, our services come with warranties to give schools peace of mind should they experience any difficulties with their new court.
Located in Southampton Township, NJ, and Haines City, FL, our service areas include eastern Pennsylvania, southern Massachusetts, Delaware, Connecticut, New Hampshire, Rhode Island, Vermont, New Jersey, Maine, and Florida. Contact American Athletic Track and Turf today for more information about our services or to get a free quote.