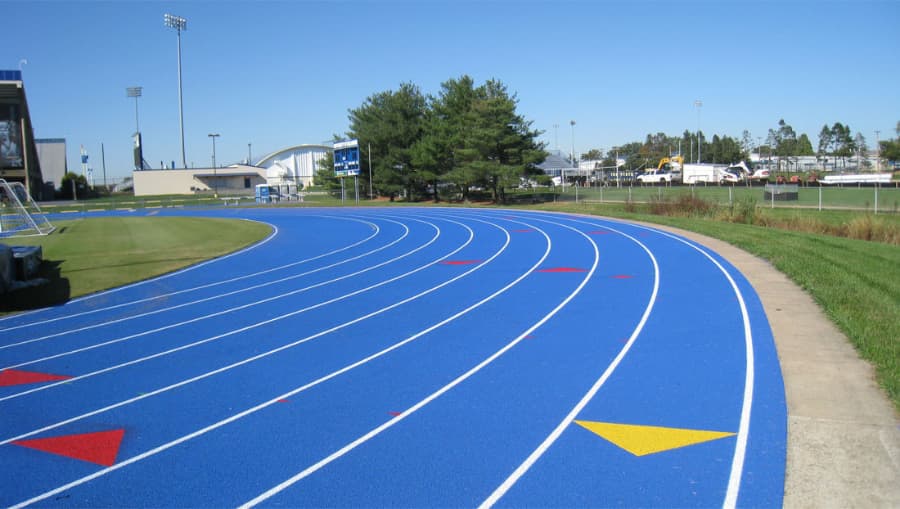 If your school is about to install a new running track, you already know safety must be top of mind – not just in the athletic track's design but also throughout the construction process. After all, your track will be utilized by student-athletes, and there are chances that students and families might be nearby during your installation. American Athletic Track and Turf explains the top safety factors all athletic directors and school personnel should consider when installing a new running track.
Safety Considerations for Athletic Track Design
Before the installation process even begins, your athletic department has some big decisions to make about your track's design that will have a direct impact on its future safety. Just a couple of these include:
Visibility and Proper Signage
It's important to have a running track that reflects your school's colors and spirit, but a flashy design can't come at the price of safety. Track and field is a very competitive, high-risk sport, making it pertinent to ensure your track's design is properly marked for visibility and displays signage about rules and regulations.
Type of Track Surface
Which running track surface is best for safety? This is a decision that will affect your athletes' performance and health. While there are pros and cons to every surface, countless schools and other facilities have found long-lasting success with American Athletic's approach. After installing the drainage system, American Athletic lays down a stone/earth base, utilizes laser-controlled paving methods for the asphalt layer, and finishes each track with a certified synthetic surface (polyurethane or latex) approved by sports governing body World Athletics.
Ensuring Everyone's Safety During Installation
When preparing for the installation of your new track, make sure the entire student body, faculty, staff, and community at large are all informed. Your school's athletic facilities are frequented by not only student-athletes but also students during physical education classes and families attending athletic events. Using your school's website, email capabilities, social media channels, and other mediums, be sure to give your school's constituents plenty of notice about the project, detailing any inconveniences not being able to access your facility might cause.
Post-Installation Maintenance and Warranty
After your installation is complete, proper maintenance will go a long way to ensure the safety of your students and community. When repairs are needed, make them right away before the problem becomes an even more dangerous issue. This is when it becomes vital to work with a company that offers a warranty. Warranties are a strong signal that your school is investing in a high-quality track that is built to last, as most track installation companies don't offer such an incentive on products that require heavy maintenance and upkeep.
Work with the Right Track Installation Company
It's easy to assume all track installation companies are equally dependable and qualified or the least-expensive services are the best option for your school. But when it comes to ensuring the safety of a running track, the qualifications of the company you choose are arguably the most important consideration of all. American Athletic boasts a proven track record for success, with qualifications including:
150 combined years of sports construction industry experience
Winner of 12 American Sports Builders Association (ASBA) national awards
Team of ASBA-certified track builders and field builders
Safe, successful projects completed at the community, grade school, high school, and college levels, and more
For more information on the safety considerations to make for your athletic track design and installation process, contact American Athletic, which serves New Jersey and other East Coast states with high-quality running tracks, artificial turf fields, tennis courts, and more.