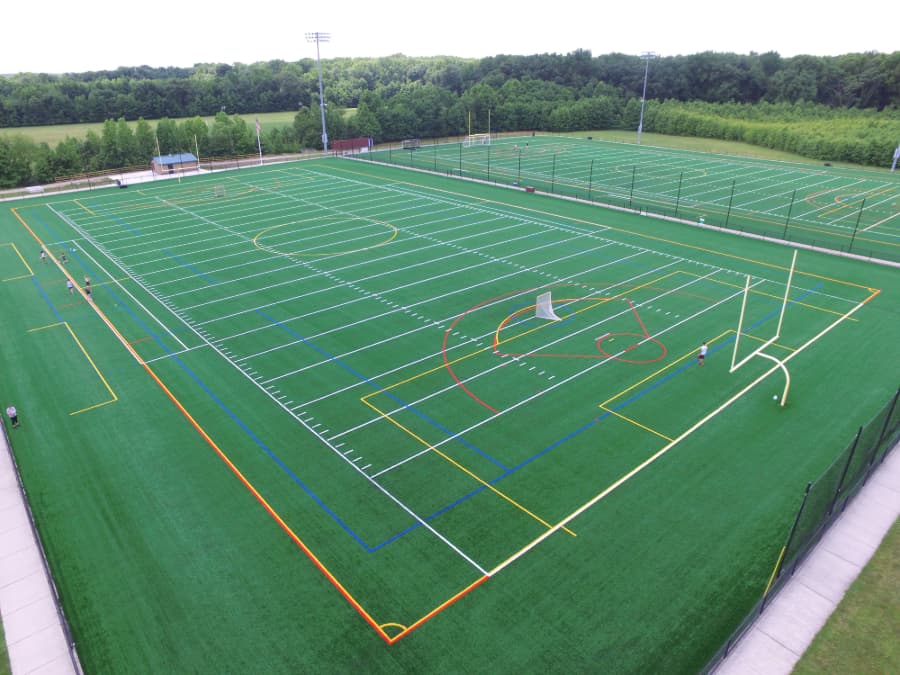 Whether you're an athletic director at a school or the owner of an athletic facility, you're probably already aware of the benefits inherent in installing an artificial turf field. With natural grass fields, you face issues like waterlogged fields and holes in the dirt, and opting for turf not only reduces field maintenance but also increases the safety of your athletes. However, deciding to install an artificial turf field is only the first step in making your facilities as safe as possible. Before enjoying its benefits, you need to ensure that the installation goes seamlessly. American Athletic Track and Turf is here to provide you with some tips on how to maintain a safe environment during your artificial turf installation.
Ensuring Athlete/Patron's Safety before Installation
As exciting as a new field is, there are safety considerations that need to be taken into account before its construction process can begin. Here are just a few things to consider:
Clearly Communicating with Your Community
The installation of an artificial turf field is a major project and could pose hazards to members of your community if they are unaware of what's going on. As soon as your athletic department schedules the installation, issue email newsletters, website updates, bulletins, text messages, and other types of communication to inform local residents, the students and staff on your campus, and others who frequent your property. Be sure to include detailed information about the scope of the project, when it will begin and end, and where it will be installed so members of your community can avoid inconvenient headaches and potentially injury.
Ensuring the Safest Turf Design Possible
Before you allow an artificial turf installation company to break ground, you must ensure that the design for your new field is as safe as possible and adheres to all applicable rules and regulations imposed by athletic leagues, school boards, and other entities. For starters, the field should have crystal-clear markings, field posts, and related features, and artificial turf should be utilized that is known to be safe for athletes to compete on. When working with American Athletic, our team of experts will walk you through the entire blueprint and have you approve every last detail before we begin the installation.
Maintaining Your New Turf Field Post Installation
Since you're installing an artificial turf field, you're already avoiding the wear and tear that's impossible to avoid with a natural grass field, such as flooding and mud. However, post-installation maintenance and repairs are also significant safety considerations to keep in mind as you prepare to care for this new athletic surface. Some tips for proper turf field maintenance include:
Place extra trash cans around areas of the field that have the most activity so that litter doesn't wind up damaging the field or injuring athletes.
Provide coaches and players with a place to scrape dirt from their shoes so they don't' track it onto the field.
Have players sweep the field after a game and pick up any obvious debris.
Prohibit sunflower seeds, chewing gum, and the like, as these will likely end up on the ground.
Choosing the Right Installation Company
Artificial turf fields are designed to withstand the elements and provide long-lasting, high-quality conditions for your athletes. Although the maintenance requirements shift slightly to accommodate the artificial nature of the field, it introduces a routine that, when done correctly, can provide a top-tier experience for athletes and fans alike.
That's why it's of utmost importance to choose the right artificial turf field installation company. American Athletic's team of professionals has received dozens of awards nationwide, and our clients choose us for their installation thanks to the following accolades and more:
Team of ASBA-certified track builders and field builders
Winner of 12 American Sports Builders Association (ASBA) national awards
150 combined years of sports construction industry experience
For more information on artificial turf field installation and repairs, contact American Athletic Track and Turf.