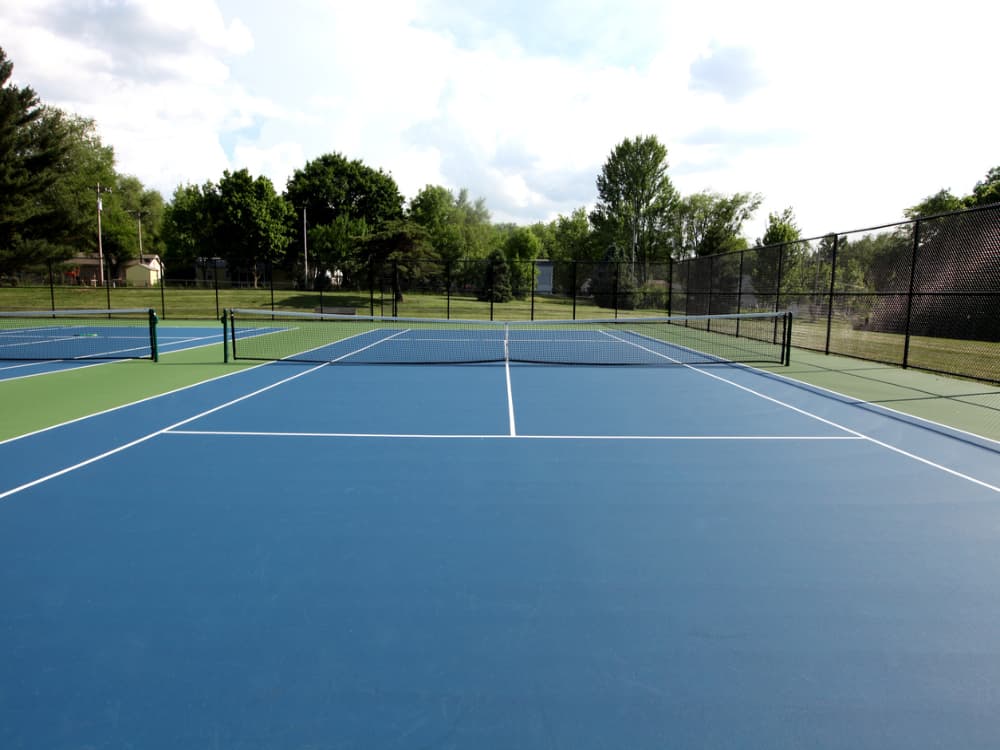 When adding to your school's sports area or athletic facility's grounds, a tennis court makes a great option. Not only does this allow your guests to play the world-renowned game, but it also provides an elegant look and increased value to your property. But which type of tennis court surface should you choose? With so many options, you can turn to the experts at American Athletic Track and Turf to help you decide. Our team, serving New Jersey and the surrounding East Coast states, as well as Florida, has the insight you need to make an informed decision and help get your next big project started.
Grass Courts
When people think of grass courts, Wimbledon naturally comes to mind. Grass offers an elegant-looking tennis court surface option. These courts are great for short points and hard hitters, with the ball sliding with each bounce and creating a fast play surface. However, while grass courts look nice, they do tend to require the most maintenance. These classic courts need consistent upkeep and are unsafe when wet, making play during inclement conditions risky. If you are looking for a solution that is easier to maintain, there are artificial grass courts with a special turf layer on top.
Clay Courts
Clay courts are another popular athletic surface throughout the world but are most common in South America and Europe. These courts feature a layer of crushed aggregate on top, allowing players to slide to make certain types of plays. The ball tends to bounce higher on clay, which means a generally slower pace for each match. Clay courts also require extensive maintenance to keep the surface looking great. Between irrigation, rolling, and brushing to keep the lines visible, these surfaces tend to be best used for tournaments or facilities with adequate resources. Artificial clay surfaces are a newer court type that features a special carpet, which is covered in sand or clay rather than a layer of crushed aggregate. While this surface style offers reduced maintenance, it hasn't been the most popular choice over the years.
Hard Courts
Hard courts come in a few varieties, including many different colors to help them (and the balls) stand out. The following are some of the most requested types of hard courts:
Acrylic
Acrylic tennis courts are the most popular courts in the United States. They combine a strong regulating base containing concrete or asphalt with a wearing surface of acrylic or polyurethane. They also can be constructed with a cushioned layer underneath the acrylic to offer a different pace of play. These courts are known for playing fast, but they can be made with more sand within the surface to slow them down. They offer a lot of bounce, which results in long rallies and epic points. As acrylic surfaces are exposed to heat and sun, they can become even faster, allowing for a single court to play differently in different conditions. Most professional tennis tournaments are played on this reliable surface for a reason.
Asphalt
Asphalt courts are designed in the same way as acrylic ones, but without the final layer of acrylic on top. They are a great option if you have a tight budget, as their initial cost is very affordable. For this reason, most public courts around the country are asphalt courts. While they are subject to cracking over time due to the elements, the money you save upfront generally makes up for any repairs needed down the road.
Tennis Court Surfaces at American Athletic
If you're looking to add an asphalt or acrylic
tennis court
to your school or athletic complex, look to the experts at American Athletic. We have the qualifications you need, including a certified field builder and a certified track builder on staff, and have been in serving those in New Jersey, Florida, Maine, New Hampshire, Vermont, Connecticut, Rhode Island, Southern Massachusetts, Delaware, and Eastern Pennsylvania since 1983. As a reputable sports construction company, we have won numerous awards for our work and offer peace of mind with warranties and
repairs and maintenance
services to keep customers satisfied. If the traditional bidding process seems too stressful, we offer the SmartBuy
co-op purchasing
program, allowing you to skip the bidding process and get started quickly. If you'd like to request a quote or have any questions,
contact us
today.