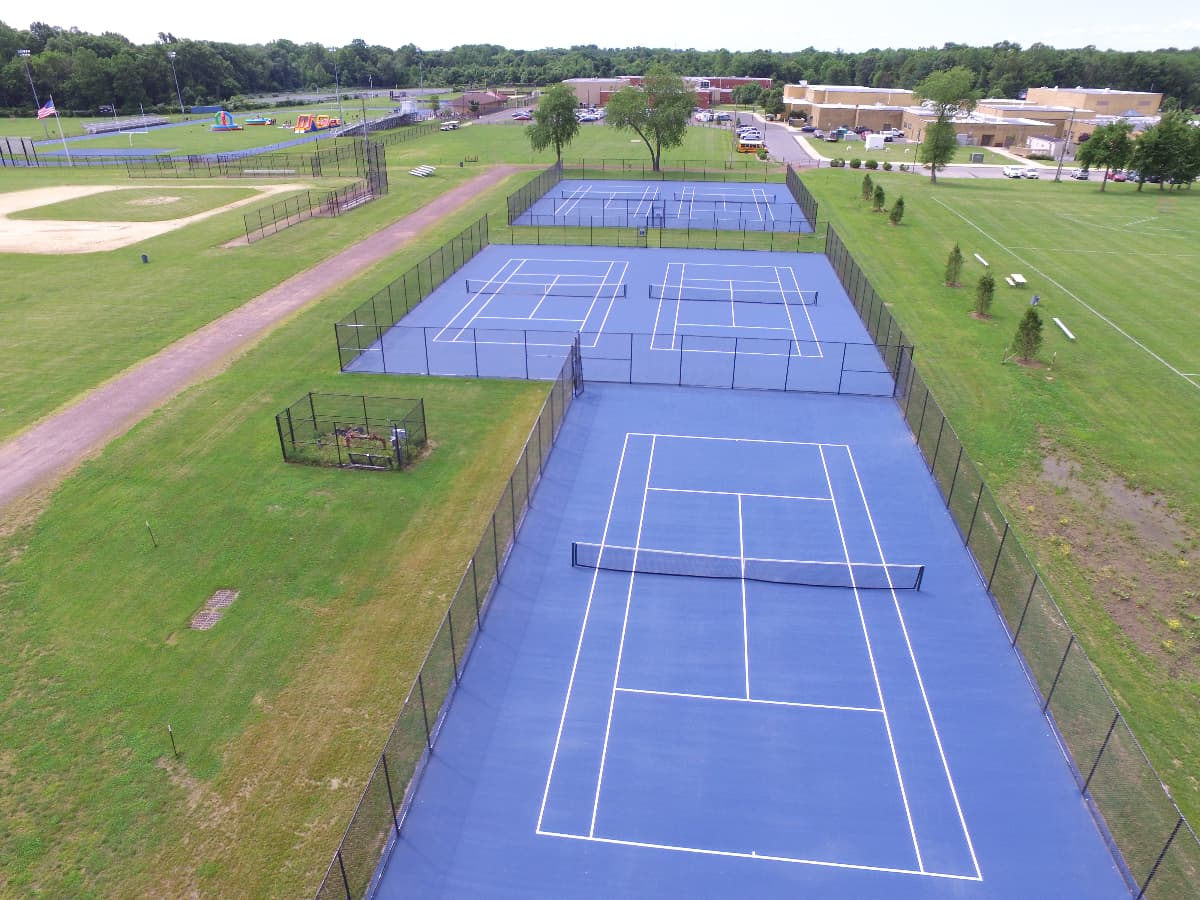 If you're thinking about constructing a tennis court, it's important to do research and hire trusted experts to ensure satisfaction and maximize your investment. At American Athletic Track and Turf, our dedicated team has been providing tennis court construction, resurfacing, irrigation, and other services to schools and facilities on the East Coast for more than 25 years. Our award-winning facilities are always built to satisfy the needs of owners, players, and contributors, and here, we share insights on how we do so with the ABCs of tennis court construction.
Necessary Qualifications
When constructing a tennis court for your athletic facility or school, certain qualifications must be met. Be sure you're working with only the most qualified designers and contractors who have extensive experience and knowledge in the sports construction industry. At American Athletic, we understand the importance of hiring professionals who will provide the highest quality of service, so we published our Contractor Qualifications document to help you understand what you can expect out of our team.
Construction Process
Once you ensure your builders and contractors are qualified, you will have to make sure that your tennis court adheres to ASBA construction guidelines regarding smoothness, planarity, optimal density, and more. At American Athletic, we are a vertically integrated sports construction company that manages every aspect of tennis court construction from start to finish – without the use of subcontractors. Our dedicated team of builders is committed to simplifying tennis court construction so your court is built properly and efficiently to provide years of enjoyment. Our construction process is detailed as follows:
Soil Analysis
We evaluate the condition of the soil at the site and determine any problems, as well as if any changes must be made for an optimal, free-draining site.
Drainage
Proper drainage is necessary to drain water away from the court for safe playing conditions. Options to consider include storm drainage with an interceptor component, French drains, and perforated drain lines surrounded with stone, and our experts will help you decide on the best method for your court.
Base and Asphalt Pavement Construction
Laser-controlled equipment is used to construct a stone base and a heavy-duty asphalt pavement layer as the basis of the court.
Surfacing
To provide your tennis court with long-lasting protection and performance, it is surfaced with an application of water-based and sand-filled acrylic latex products.
Accessories
Necessary items like fencing, bleachers, lighting, and more will be added to enhance both the facility and the experience.
We also offer maintenance services after our initial construction is complete, including resurfacing, crack repair, and more.
Install Your New Tennis Court with American Athletic
If you're ready to start construction on a tennis court at your sports facility on the East Coast, trust the dedicated team of builders at American Athletic Track and Turf. For over 25 years, we have been providing tennis court construction, maintenance, and repair services in states like New Jersey, Delaware, Connecticut, and beyond. Request your quote on our award-winning tennis court construction services today.