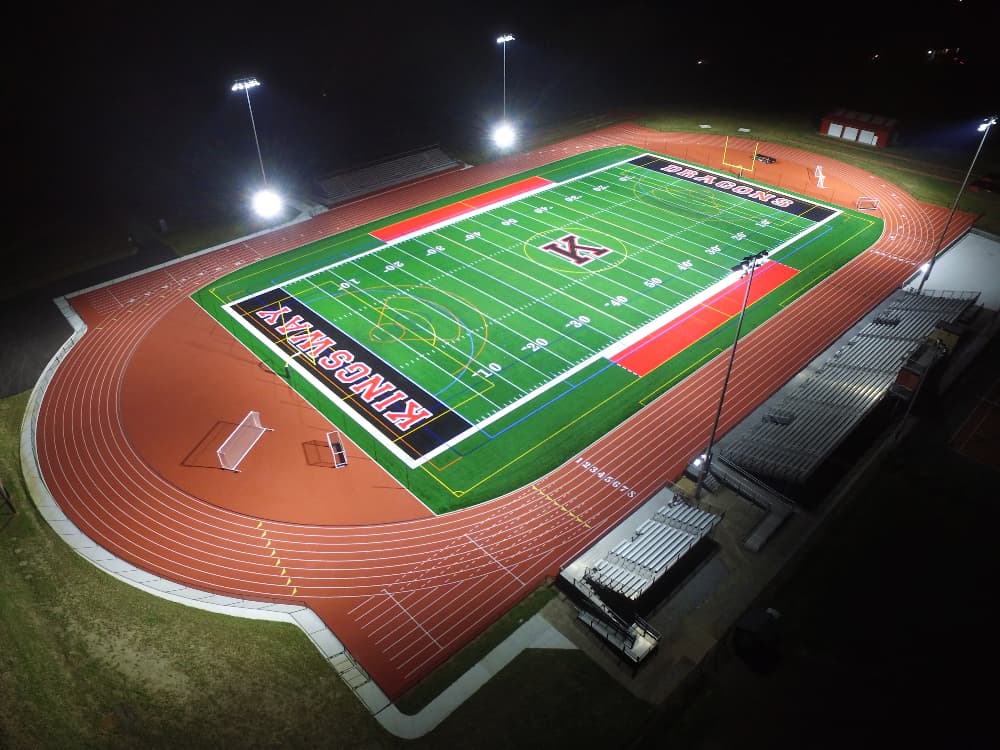 Combining speed, technique, dedication, and team building, running helps people of all ages feel a sense of accomplishment, and choosing the right running track surface makes all the difference. Aside from assisting runners in achieving their goals, synthetic running tracks are popular for a reason – they can help to reduce the occurrence of stress injuries in athletes. Let the experts at American Athletic Track and Turf, serving Northeast coastal states and Florida, help you learn what makes this surface type a great choice for schools and other athletic facilities.
What Are Synthetic Tracks?
There are a variety of materials that are used to make track surfaces, but synthetic tracks stand out. Synthetic tracks are constructed with a concrete or asphalt base to offer a dependable foundation. They then have drainage installed to help them withstand harsh weather in any season. American Athletic offers a selection of drainage options to suit your needs, from storm drainage and channel drains to specialty choices such as slot drains or flat drains. Finally, the surface is added. Whether you choose polyurethane- or latex-bound rubber particles, the result is a World Athletics/International Association of Athletics Federations (IAAF)-certified running surface that looks great and is sure to exceed your expectations.
How Do Synthetic Running Track Surfaces Help Prevent Injury?
Synthetic tracks are a modern innovation designed to help limit injuries and maintenance, making them a win-win for administrators. Here are just a few of the ways that these modern rubber surfaces can help deter stress injuries, compared to other popular surface types:
Outperforming Clay and Cinder
Unlike clay or cinder track surfaces or classic asphalt, synthetic tracks are built to handle whatever the weather throws at them. Clay and cinder tracks will often end up with dips or holes, as strong winds move particles around, and they get soggy with excessive precipitation. The result can be an unsafe running surface that will require plenty of maintenance on your end.
Mitigating Issues with Asphalt
Asphalt surfaces also present problems in the face of Mother Nature, often becoming too rigid as they freeze. They also can become too hot and soft in the summer months. These drastic changes mean they won't remain resilient over time, increasing the risk for an athlete to experience a stress injury.
Leaving Grass or Turf in the Past
Another popular option is a grass or turf surface, but these tend to offer less stability and can be too soft. The result is added strain on the joints and muscles of runners. These surfaces also can become slick when wet, increasing the risk of slipping.
Conversely, synthetic tracks help absorb shock with each step to lessen the pressure on your body. This helps runners push themselves with less risk to their bodies. The textured surface offers a firmer grip as well, helping athletes stay upright from their first step to the finish line.
With synthetic tracks, you get the best of both worlds. The combination of a sturdy earthwork or stonework base, and a reliable and supportive latex- or polyurethane-bound top surface, creates a track that will remain safe for athletes of all ages.
Choose American Athletic Track and Turf for Your Synthetic Track Installation
With over 150 combined years in the industry, the team at American Athletic has the know-how and the experience to get the job done right. From new track surface installation to any repairs needed down the road, our certified professionals are there for you every step of the way. We even offer installation of tennis, basketball, and pickleball courts as well as turf and artificial surfaces.
With a certified track builder and certified field builder on staff, it's no surprise we have received numerous American Sports Builders Association awards. Even more, our partnership with the SmartBuy Cooperative Purchasing Program means you won't have to worry about going through the bidding process and we offer warranties on our work for peace of mind. Let American Athletic help you get the right running track for your facilities throughout the U.S in:
New Jersey
Florida
Connecticut
Delaware
Southern Massachusetts
Eastern Pennsylvania
Maine
New Hampshire
Rhode Island
Vermont
Request a quote today, or contact us with any questions.