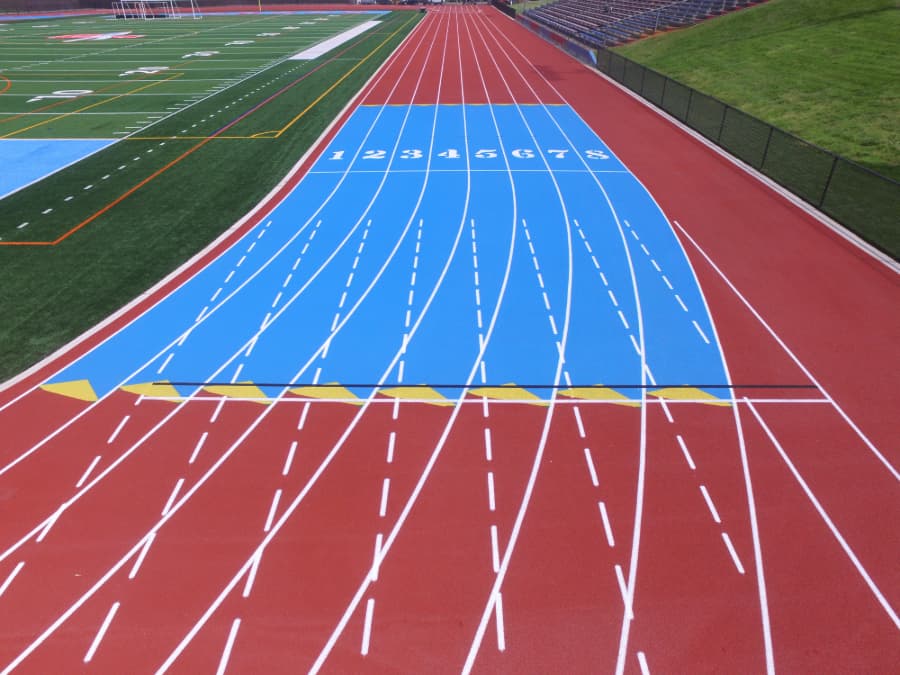 Updating a sporting facility's services like track and turf can seem like a big undertaking with the typical bidding process, but luckily, there's an alternative. American Athletic Track and Turf offers an innovative co-op purchasing program to high schools looking for new or upgraded athletic facilities. By streamlining the bidding process through the SmartBuy Cooperative Purchasing System, American Athletic offers customers an easier sports-building solution. Here, we explore how it works.
Don't Be Restrained by the Public Bidding Process
To help you understand how the SmartBuy Cooperative Purchasing System offers easier access to high-end sports construction, we'll first take a look at the public bidding method. Athletic directors typically need to go through a long process of conceptualization and approval in order to submit a request for public bids by approved vendors. Steps may include:
Interviewing designers
Creating budgets and plans
Organizing a bid package
Advertising bids
Collecting bids and reviewing them
The end of this long process is a bid accepted for the lowest possible cost, but is that the best fit for a high school athletic facility? Some athletic directors may prefer to have the option of choosing higher-quality systems, perhaps ones that offer warranty and repairs.
The SmartBuy Cooperative Purchasing System
American Athletic's SmartBuy Cooperative Purchasing System, on the other hand, offers an efficient solution to the elongated bidding method, along with additional benefits such as:
Streamlined Bidding Method
The program boasts a vast network of National Cooperative Purchasing Agencies, allowing athletic directors across the U.S. to buy turf and tracks with preferential pricing. Through the public bidding process, schools may find themselves settling on low-quality systems. The SmartBuy Cooperative Purchasing System, which is a sealed-bid process, eliminates that need to settle.
High-Quality Services
Through the SmartBuy Cooperative Purchasing System, high schools will have access to construction with top-quality materials, including:
FieldTurf: A highly trusted brand, FieldTurf constructs artificial fields for football, soccer, baseball, and any other sport requiring turf. The company offers high-value, durable surfaces that provide athletes with optimal safety and performance.
Beynon Sports: This brand specializes in high-performance, synthetic athletic surfaces including outdoor tracks, indoor field houses, and multi-purpose gymnasiums.
These materials allow facilities to be built with athletic performance and long-lasting value in mind rather than just the bottom line.
Vertically Integrated Process
A benefit of working with pre-determined bids is that those components of construction can be self-performed by ASBA-certified companies like American Athletic. This allows us to perform and have oversight of all major processes, as well as ensure aspects like timely construction, budget adherence, durability, and safety.
Warranties
Through comprehensive program oversight, users of the SmartBuy Cooperative Purchasing System also have access to some of the best and longest warranties available for track, field, and court projects. Warranties and repairs of this nature may not be available through a public bidding process, which allows for even higher value for a project.
Get a Quote for Your High School's Project with American Athletic
Obtaining a new high school sports facility doesn't need to be an overwhelming process. Omit the need for exhaustive public bids with the SmartBuy Cooperative Purchasing System from American Athletic. Offering streamlined access to top-notch sports construction services for 25 years, American Athletic is proud to produce high-quality facilities throughout New Jersey and along the East Coast. Contact us today to request a quote through the SmartBuy Cooperative Purchasing System.