Running Track Installation Resources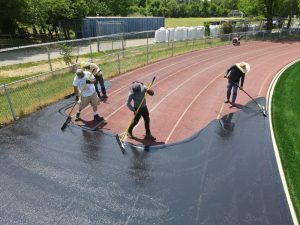 At American Athletic Track and Turf, we know that a running track is only as good as its substructure. We leverage a depth of scientific knowledge to increase running track longevity, performance, safety, value, and even aesthetics. While our first concern is the track owner, we also keep athletes in mind to ensure a strong performance from everyone who steps out onto the track. Located in Southampton Township, NJ, and Haines City, FL, our service areas include Eastern Pennsylvania, Southern Massachusetts, Delaware, Connecticut, New Hampshire, Rhode Island, Vermont, and Florida. We've built a strong reputation for quality work.
Whitepapers and Resources
How do you get started on the road to a running track? What will you need to know? Begin with these whitepapers and other reliable sources:
Facility Information Guide
To properly assess your facility's condition, use this Facility Information Guide to understand the extent of repairs needed. The guide also helps you plan a budget and have accurate expectations for the results of the upgrade.
Contractor Evaluator
Our Contractor Evaluator provides a 27-point checklist for your project. The checklist gives you the answers you need quickly when deciding on potential contractors.
Warranties
With a running track warranty of up to 15 years, we make sure owners and taxpayers get the full value of their investment. Learn more in the American Athletic Track and Turf brochure.
Florida Warranties
We offer a special Florida Running Track Platinum Warranty, lasting for either 10 or 15 years. It is the industry's first and only total protection plan for new running track construction.
Polyurethane Track Respray
Polyurethane artificial track spray can prolong your track's life, with respraying suggested every five years. Find more information on polyurethane respray.
Porous vs. Nonporous
Porous running tracks allow liquids to move through them, while nonporous tracks are sealed, so liquid and air cannot infiltrate. Learn why sealed running tracks can give your facility an advantage.
Laser-Controlled Asphalt Paving
Achieve proper smoothness, planarity, and density with laser-controlled asphalt paving.
Running Track Bids
Discover the appropriate contractor qualifications for running tracks for our areas of general construction, asphalt paving, and synthetic surfacing.
Mill and Overlay
In The Proper Mill and Overlay, learn why simple mill and overlay choices are often inappropriate.
Video
The Executive Director of the American Sports Builders Association (ASBA) leads you through the requirements and need-to-know information of hiring a builder in this short video.
Benefits of a Certified Track Builder
The ASBA Certified Field Builder Program was implemented to increase professional standards and enhance the construction process. ASBA-certified builders must pass a comprehensive exam on field construction and maintenance. All Certified Track Builder-Stripers must pass the Certified Track Builder test and meet the standards for expertise in track striping.
Product Specifications
For extra protection, use Alturna Mats to help prevent damage to lawns and landscaped areas. These durable mats are resistant to heat or cold and easily handle weights of up to 60 tons. We also distribute the following quality products from Benyon Sports Systems for all your surfacing needs:
Request More Information on Running Track Installation
Up and down the East Coast, American Athletic Track and Turf is heralded for our sports construction and running track success stories. With locations in Southampton Township, New Jersey, and Haines City, Florida, clients in the following service locations receive running tracks that enhance and beautify any community:
Connecticut
Delaware
Eastern Pennsylvania
Maine
New Hampshire
New Jersey
Orlando, Florida area
Rhode Island
Southern Massachusetts
Vermont
Take the initiative and contact American Athletic Track and Turf for all your running track questions and needs. Our experts will guide you every step of the way. Get a risk-free quote, or search the many resources in our Smart Start Toolbox.