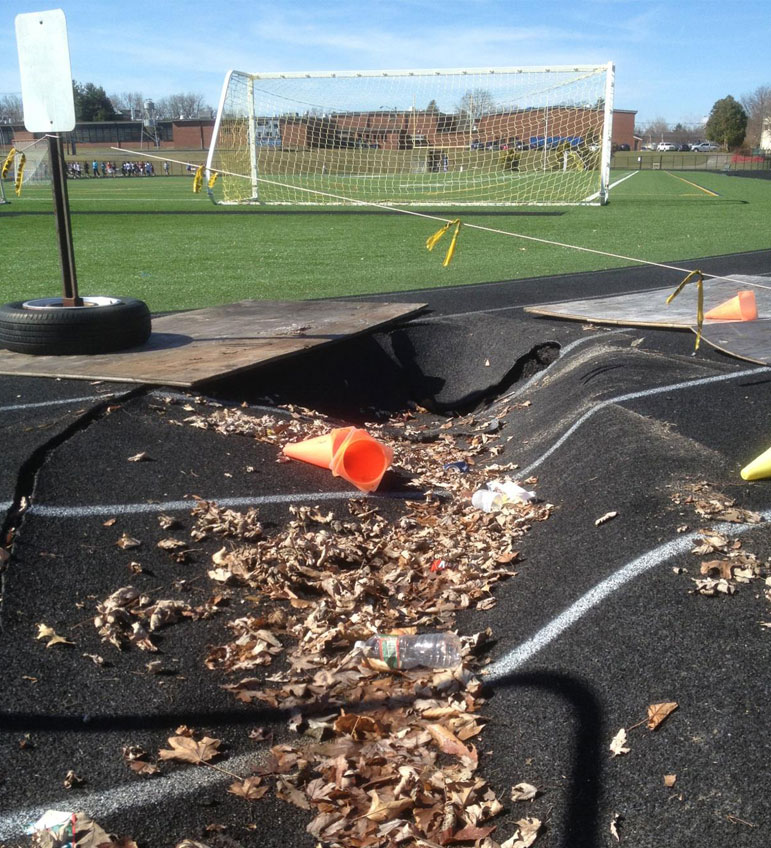 Running Track Repair Guide
Do you have a
running track
that is not performing as it should? Is the synthetic track surface falling apart? Are the stripes of the running track oval in the grass and the high jump or other field events undersized? Do you need to update and repair your running track so you can host meets without endangering your students and those from other schools? With tight budgets and post‐recession blues, these are common situations across the USA.
So how do you get started with your running track repair?
Step 1: Find a Certified track builder or experienced running track designer
The keyword here is 'Experienced'. You will need a consultant who understands running track construction with all of its nuances, and who also has had significant experience building these facilities.
By significant experience we do not mean someone who solely installs synthetic surfacing, or is your average road construction or driveway paver. You need someone who is familiar with and has done the actual work on the infrastructure as well as the surfacing of a running track.
Only they will understand which type of running track repair is needed to get you up and running again on a safe surface. This person and team must be familiar with the levels of
precision
needed to be attained by excavation, specific drainage, stone base, asphalt layer, and finally the synthetic rubber surface.
This person should have built at least 6 tracks within the last 2 years and be current with the newest trends and equipment available to the industry.
To locate a qualified running track repair company, your best bet would be to consult with an American Sports Builders Association Certified Track Builder. You will be able to locate a certified track builder using their resources by going to their website at www.sportsbuilders.org
www.sportsbuilders.org
Don't forget to get references! Make some phone calls, ask other schools who made their running track repairs and were they pleased with the quality and service provided?
Step 2: Conduct a thorough site inspection with a Certified Track Builder.
During this process, governing body requirements such as the NFHS, NCAA and IAAF can be evaluated and a scope of work to be performed can be generated. Only a certified track builder or experienced running track designer can tell you if your track repairs are simple remedies that can be handled in‐house or whether they are major issues that will require in-depth soil erosion or storm water management design or more.
Step 3: Set Realistic Budget Numbers
Place realistic budget numbers on all of the items that need to be addressed based upon the site inspection such as re‐striping, enlarging your high jump area, or any other items that need to be improved. A Certified Track Builder can help determine which of these running track repair items need to be addressed immediately to meet all governing body requirements and which items can be delayed if need be.
Step 4: Evaluate Purchasing Options
While the most common purchasing option is a public bid, there are other options available. Cooperative Purchasing Networks allow you to bypass the lengthy public bid process and work with the contractor of your choice within the network.
Q: Are you afraid someone could be injured on the current state of your running track? Are there areas where the rubber is wearing thin? Do you have puddles and cracks on the surface of your running track? Contact us about any problems you see on your track or better yet, take a photo and send it to me. We will let you know what you can do to remediate the issue.