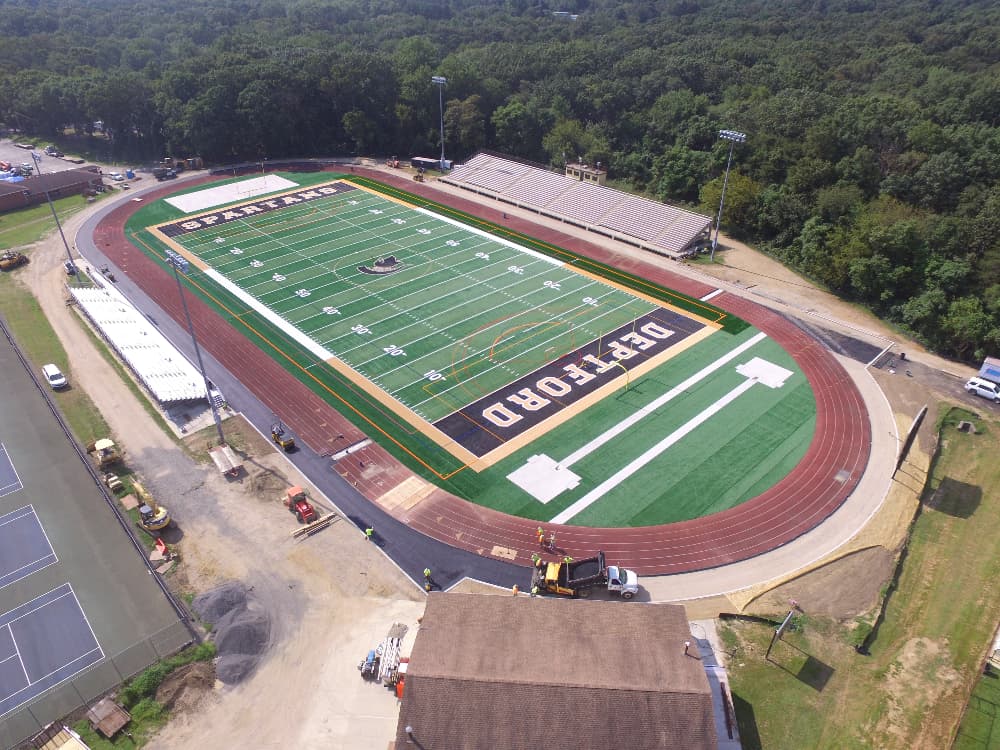 We know that a major capital project at your school or athletic facility can feel overwhelming. To help you navigate the process, American Athletic Track and Turf provides answers to some of our most frequently asked questions about sports field construction. With projects throughout the East Coast, we serve clients in Connecticut, Delaware, Florida, Southern Massachusetts, Maine, New Hampshire, New Jersey, Eastern Pennsylvania, Rhode Island, and Vermont.
What Track Surface Is Best for Us?
American Athletic Track and Turf offers different kinds of track surfaces to suit our clients' needs. We use Beynon Sports Surfaces (BSS), which are known for their quality and durability. Options include:
These products vary in performance level and longevity: the BSS 100 is the most basic option, and the BSS 2000 is an Olympic-caliber track. When budget allows, we recommend a BSS 300 or higher for the best combination of longevity and performance.
What Are My Options for Artificial Turf?
While there are many kinds of artificial turf products, there are three general types of synthetic turf grass:
Monofilament: As the name implies, these are single strands of synthetic fiber that are built into a roll of turf.
Slit-film: This style of turf uses flat pieces of synthetic material with small slits cut into it, creating a net or web-like structure.
Dual fiber: This style mixes both monofilament and slit-film fibers and is the most durable option.
The type of turf you choose will depend on your budget and the sports you will use it for the most.
Which Surface Would Work Best for Our Tennis Courts?
For a durable, long-lasting tennis court surface, American Athletic Track and Turf uses an application of water-based and sand-filled acrylic latex products after completing the proper soil analysis, drainage, and base and asphalt pavement construction. We recommend Nova Sports USA Acrylic Surface for tennis court surfaces. For repairs, we use RiteWay Tennis Court Crack Repair.
How Long Will a Track Surface Last?
The usable life of a track surface varies depending on the climate as well as the frequency of use. American Athletic Track and Turf's track surfaces can last for 20 to 30 years with the proper maintenance. That's because we carefully design the substructure to ensure proper drainage and use a high-quality sealed synthetic surface.
How Long Does Track Installation Take?
Every facility is different, so no two projects are alike. But generally, our vertically integrated track building process includes:
Planning and design
Drainage installation
Base construction
Laser-controlled asphalt paving
Polyurethane or latex synthetic track surface application
Typically, you can expect your project to take between four and 12 weeks to complete, depending on your facility. We offer a site evaluation guide to help you evaluate your facility and understand the scope of work.
How Do I Choose the Right Contractor?
We recommend that you take the time to do your research, read reviews, and consult with industry colleagues who have undertaken similar projects. Make sure you ask potential contractors about their experience, capabilities, and whether they subcontract out any portion of the work. To help you vet potential contractors, American Athletic Track and Turf provides a contractor comparison checklist.
American Sports Builders Association (ASBA) offers a Certified Track Builder (CTB) and a Certified Field Builder (CFB) program to set standards of excellence in athletic field construction and maintenance. American Athletic Track and Turf is proud to have both certified track and field builders on our staff.
How Much Maintenance Will Our Track or Court Need?
Even top-quality sports facilities can be susceptible to weather damage over time. Ice, snow, and freezing temperatures ultimately can lead to cracks in the court or running track. To get the most out of your athletic surface, you may need to call on us for maintenance such as resurfacing, restriping, and crack repair.
Learn More About American Athletic Track and Turf
At American Athletic Track and Turf, we bring our decades of experience to ensure our clients on the East Coast and in the Southeast receive top-quality products and expert construction and maintenance. Our team has won numerous national awards from ASBA for excellence in the design and construction of athletic fields. We also hold professional affiliations with Associated Builders and Contractors, the Tennis Industry Association, and the Sports Field Management Association.
We participate in the SmartBuy Cooperative Purchasing Program so our customers have access to preferential pricing and turnkey solutions and our projects are backed by excellent long-term warranties. For more information about the co-op purchasing process or to request a quote, please contact American Athletic Track and Turf today.