Court, Track, and Sports Field Design, Construction, and Maintenance Case Studies
American Athletic Track and Turf offers clients extensive experience in track, court, and sports field design, construction, and maintenance with a proven record of successful projects. Since our founding in 1983, we've served schools, colleges, municipalities, and more throughout the East Coast with advanced technology, sophisticated design, and premier customer service. Our portfolio of case studies highlights some of our recent projects to explore the scope of work, services provided, and more.
Current Case Studies
Sports facility projects are unlike any other in the construction industry and require the added insight and capabilities that only experience can bring. At American Athletic Track and Turf, we strive to deliver construction and repair services that optimize every athletic facility for longevity, safety, and performance. These case studies explore just a fraction of the services we offer to help demonstrate the importance of working with certified contractors.
In August 2019, Kingsway Regional High School in New Jersey contracted us to reconstruct and expand the school's track and field facilities. Recently decommissioned due to safety concerns, several updates were needed to get runners back into competition. We demolished and removed the old track, natural grass, and existing buildings. The project was completed with a larger, more attractive, new facility. By the next spring, athletes could compete in more field events while spectators enjoyed the comfortable, convenient layout.
The Pennsauken High School once hosted the SJ Coaches Soccer Tournament and many important area track meets. Over time, however, the facility fell into poor condition and had to be closed for safety. We were contracted for a full demolition and rehabilitation, complete with a brand-new drainage system and expanded facilities. The project began in Fall 2018. After a winter at work, we restored the track and field to excellent condition before the spring season.
When it comes to repairs and renovations at a busy park, quick turnaround is vital. Every day spent under construction is another lost for those who rely on these facilities. In Red Bank, NJ, the Department of Parks and Recreation contracted us to clean, repair, and respray the public track. Our work was completed to the highest standard and ahead of schedule, finishing seven days early so visitors could get back to their workouts sooner than expected.
A Passion for Athletics with a Wealth of Experience
American Athletic Track and Turf was founded on a love of athletic competition and a passion for providing the best possible facilities for athletes at all levels. Our team brings more than 150 years of combined experience to every project and includes American Sports Builder's Association (ASBA) Certified Field Builders and Track Builders. This designation requires demonstrated success in a wide range of competencies, including layout, project management, maintenance, site work, and more.
We utilize the latest laser-guided equipment and advanced techniques to meet and exceed standards set by the industry, our clients, athletes, and project contributors. As a result, the ASBA has recognized us twelve times with national awards, and the East Coast considers us the premier source for track, court, and sports field design, construction, and maintenance. To learn more about our work, please see our portfolio of photos or contact us online.
Contact American Athletic Track and Turf Today
Don't trust your athletic facility to just any contractor! If your next project is in the Mid-Atlantic, Southern New England, or Florida region, call 1-800-427-5705 to request a quote or to speak with a member of the American Athletic Track and Turf team to schedule your free site assessment today! We'll answer all your questions and help determine which of our services is right for your facility.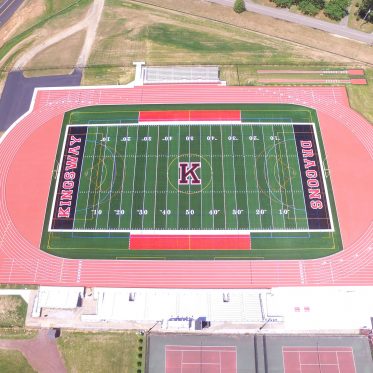 Local Public High School Track and Field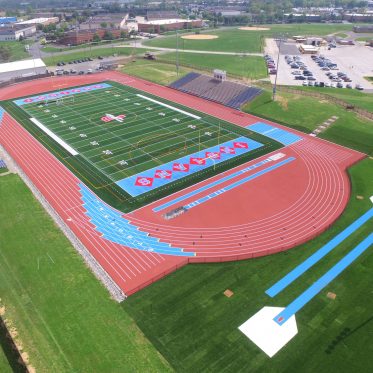 Local Public High School Track and Field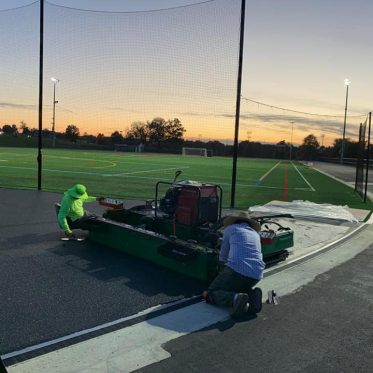 Local municipality in New Jersey