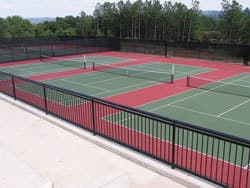 Whether you're opening a new facility and want a high-quality tennis court for your student-athletes or want to repair or upgrade your existing court, you should know that there's more than one choice when it comes to your options for tennis court surfaces. With different materials to choose from, and pros and cons for each type, the notion of narrowing down your choices might be daunting, but American Athletic Track and Turf is here to help. For over 25 years, we've been resurfacing and installing tennis courts for schools and athletic facilities up and down the East Coast, and here, we describe how you can go about ensuring the right tennis court surface for your project.
The Differing Needs for Indoor and Outdoor Tennis Courts
As with many sports today, indoor athletic facilities have risen in popularity thanks to their year-round availability, despite weather conditions. Of course, the appeal of playing on a traditional outdoor tennis court still draws many athletes and recreational participants to the sport. When considering a surface for your new tennis court, the first thing to take into account is whether the material is suitable for indoor or outdoor use. Tennis court surface materials recognized by the International Tennis Federation include:
Acrylic
Artificial clay
Artificial grass
Asphalt
Carpet
Clay
Concrete
Grass
Tiles
Canvas
Wood
Each surface provides unique benefits but may have drawbacks if they are incorrectly used indoors or outdoors. When you consult with American Athletic, our team will help you determine which materials might be the best choice for your indoor or outdoor tennis court.
Choosing a Surface-based on Your Facility's Needs
Once you've narrowed it down to two or three kinds of tennis court surfaces, you'll want to take a step back and consider the kinds of players that frequent your facility. What kind of surface are they used to playing on? How different will the new surface be from the old one? Will it affect their game? For example, here are a few key characteristics of artificial grass, asphalt, and clay surfaces, some of the most common types, to bear in mind when installing or resurfacing your tennis courts:
Artificial grass: Very similar to traditional grass courts, the synthetic nature of this surface provides the same bounce as its natural counterpart without the inconsistencies which result from wear and weather. After the serve, the volleys on this surface are quick and low.
Asphalt: This tennis court surface winds up being the cheapest and easiest to maintain. The speed of the ball does vary depending on the top layer treatment the court receives, but the bounce is consistent and reliable, making this a very easy court to play on for athletes of every skill level.
Clay: Usually composed of crushed stone and minerals, this surface provides a high bounce that slows the ball down more than grass and asphalt surfaces. While the material used in clay courts is cheap, the cost of long-term maintenance winds up costing more than the other tennis court services listed.
Making the Right Choice for Your Facility
If you're still not sure where to start or need a reliable track and turf builder in your corner, get in touch with the experienced team at American Athletic Track and Turf. We'll walk you through your options, provide an accurate estimate, and skillfully install your indoor or outdoor tennis courts to your satisfaction.