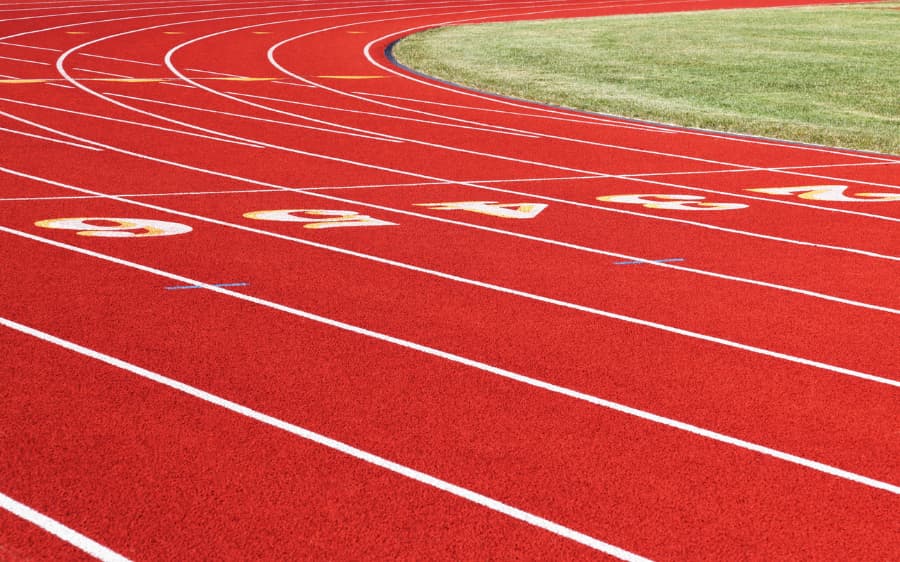 When installing a new synthetic running track at your school or athletic facility, you'll need to know how to maintain, clean, and care for it to ensure it lasts as long as possible and provides the best performance. American Athletic Track and Turf is a premier sports construction company with more than twenty-five years of industry experience providing athletic field design and
sports construction services
and expertise throughout the East Coast states. Here, our
qualified track and field builders
share information about how often synthetic running tracks need to be cleaned so you can keep yours in great shape.
Synthetic Running Track Cleaning
Synthetic
running tracks
are becoming more popular at schools and athletic facilities because they offer weather resistance, shock absorption, and less maintenance compared to other materials, such as asphalt or concrete. At American Athletic, we have a partnership with
Beynon Sports
, A Tarkett Sports Company, to provide our clients with the highest-quality synthetic running track surfaces available. Beynon Sports offers high-performance synthetic surfaces designed to last. Although synthetic tracks typically don't need too much maintenance other than the occasional repair, there are a few cleaning tips that athletic directors should follow to keep their tracks safe. These include the following:
Minor Cleaning
Synthetic track materials are resistant to wear and weather, but they can still get dirty when used. Lots of foot traffic, dirty shoes, and debris from mowed lawns and leaves can impact the surface, causing grime and dirt to build up. This is not only unsightly but can also pose a hazard to athletes if they slip or trip on debris.
To prevent this, give your synthetic track a quick cleaning after heavy use during the season. Debris and sand should be swept or blown off the track. Then the track should be sprayed down with a hose to clear off grime and mud. You don't even need to use soap or cleaning products, since the synthetic material is designed to be so durable. This cleaning is fairly easy to complete and should be done so athletes can get the most out of the track while staying safe.
Major Cleaning
In addition to routine minor cleaning, a synthetic running track should receive a major deep cleaning every three to four years. This process helps clean any build-up that a quick wash and sweep won't affect and helps to prevent overgrowth like moss or algae. A deep cleaning of your running track will typically be done by professionals who have the right tools to get the job done properly. It will normally use a high-pressure tool. Deep cleaning can help revitalize the colors and appearance of the track and increase its lifespan.
You should also inspect your running track regularly for any damage or problems that can necessitate a repair. At American Athletic, we provide
repair and maintenance services
for athletic tracks and fields that include surface cleaning, restriping, and maintenance plans. If you need cleaning or repairs done on your synthetic running track, you can trust American Athletic to do the job right.
Contact American Athletic for More Information
Whether you already have your synthetic running track installed, need your track cleaned, or require installation services, American Athletic is here to help in New Jersey, Connecticut, Delaware, southern Massachusetts, eastern Pennsylvania, and more locations. We provide high-quality sports construction services backed by comprehensive warranties and even participate in the
SmartBuy program
, a time- and money-saving alternative to the traditional bidding process.
Contact us
today to learn more about synthetic running tracks or to
request a quote
.