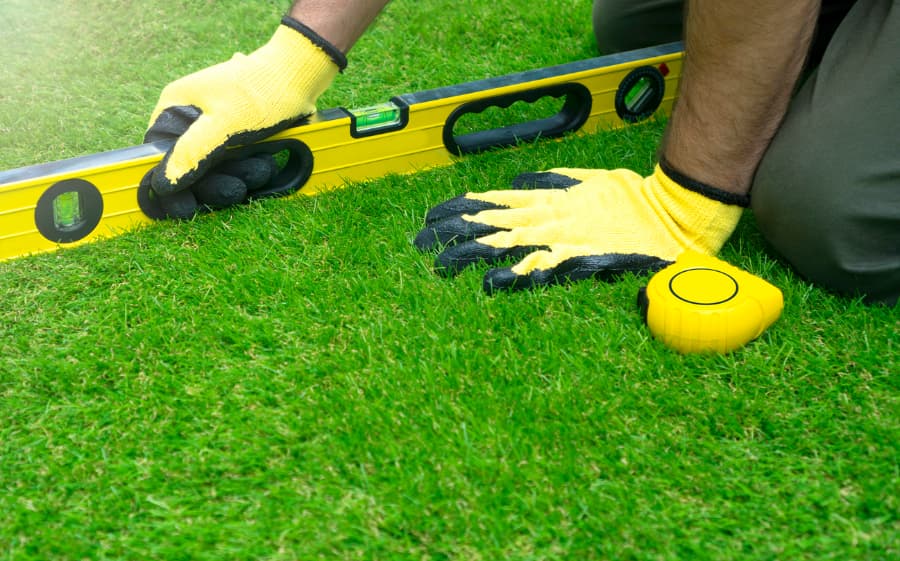 Artificial turf fields are easier to maintain than traditional grass fields, but they still require routine upkeep to ensure they're in suitable shape for games and practices. American Athletic Track and Turf offers artificial turf installation, repair, and maintenance to schools and institutions throughout the southern New England, Mid-Atlantic, and Florida regions. Here we'll share tips and tricks on how to maintain your artificial turf field and why American Athletic is the best athletic field maintenance company to service you.
Maintenance and Care Tips
Artificial turf is a convenient option for a sports field surface that offers benefits such as reduced maintenance, built-in drainage, and zero watering. It also withstands heavy foot traffic, reducing the number of depressions or holes, which can cause injuries. Although artificial turf doesn't need typical grass maintenance, like mowing, fertilizing, or watering, it will require regular upkeep to ensure it's in top playing condition. Recommended maintenance for artificial turf includes the following:
Cleaning and Sanitizing
Debris can build up on a turf field and will need to be removed regularly so teams can play safely. Using a leaf blower, lawn rake, or vacuum is a good way to remove items like dirt, seeds, rocks, and twigs that may be on the turf. It may also be beneficial to have rules surrounding what can and can't be brought onto the turf field, such as gum, seeds, and tobacco.
In addition to clearing debris, it's important to sanitize and clean artificial turf fields with specialized products because germs, bacteria, and smaller particles can infiltrate the field during games, practices, and gym classes. Using sanitizers, solvents, and antimicrobial cleaners on the turf weekly to monthly will help keep players and coaches healthy.
Infill Replenishment
Turf infill is the small pieces of material between the artificial grass blades that help mimic the feel of grass and provide padding and shock absorption. Infill also helps to improve the resiliency and durability of the field, so it's necessary to keep it well-maintained.
You can do this before games by grooming fields, loosening and redistributing the infill for improved footing and reduced static. Infill may need to be replaced or replenished in high-use areas of the field, so it's recommended to check the infill level every year. Infill levels should be more frequently monitored in the first two years after turf installation because turf will be more exposed to the elements before the fibers settle.
Measuring Field Hardness
The hardness of the turf field surface must be measured to make sure it's correct because the harder the field is, the greater the chances of injury occurring from a fall during a game. Surface hardness is measured by the Gmax, and a higher value indicates a harder surface. Testing agencies will use the Clegg Impact Soil Tester and the ASTM F355 device to measure Gmax, which should be under the 200 Gmax level. This should be done at least once per year and should be done all around the field, with extra attention to high-use areas.
Complete Repairs
Many artificial turf field maintenance tasks can be completed by the institution's team, but certain repairs should be left to the professionals, including repairing seams, replacing damaged areas, and fixing worn spots. This helps make sure your artificial turf field is safe for play and performs optimally.
Knowing the usage patterns of the turf field can help you plan your maintenance because different sports and schedules can affect the intensity and frequency of maintenance. However, it's a general rule that artificial turf sports fields need maintenance every forty hours of use.
Why Choose American Athletic?
American Athletic Track and Turf is a multigenerational, family-owned business that is dedicated to sharing our experience in sports track and field building, installation, and maintenance. Why should you get your work completed by us?
Over 150 years of combined experience
American Sports Builders Association (ASBA) -certified Track and Field Builders on staff
Received numerous awards and certifications
Relationship with FieldTurf, a Tarkett Sports Company, which offers high-quality products
A comprehensive warranty fully protects your investment
Our SmartBuy cooperative program, a purchasing solution that helps our customers save time and money and offers more control over the final product (compared to the traditional bidding process)
The dedicated team at American Athletic has the experience and equipment necessary to make your artificial turf field a success.
Request a Quote Today
Whether you need your artificial turf field maintained, repaired, or installed, American Athletic is here to help you complete the job efficiently. Our ASBA-certified track builders and field builders offer high-quality track and field services for schools across New Jersey, Connecticut, Delaware, southern Massachusetts, eastern Pennsylvania, and more locations. Contact us today to get a free quote on your artificial turf project