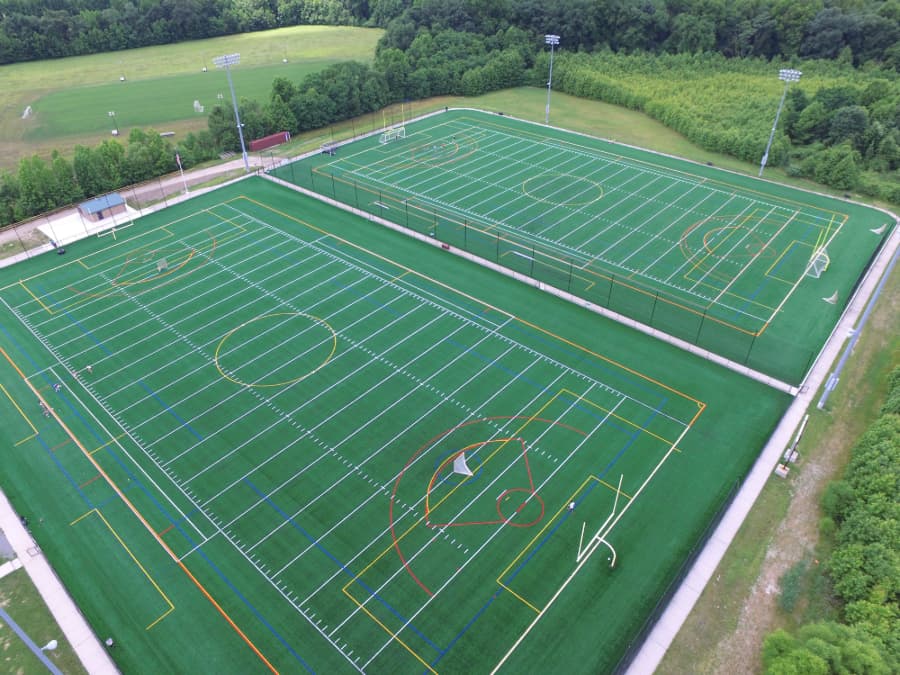 Synthetic sports turf does not need to be cared for like natural grass, but it does require routine maintenance. Proper care of your artificial turf field ensures less wear and tear and minimal repairs, which keeps budget costs lower and gives the school a sense of pride in its field. A trusted family-owned and multi-generational business, American Athletic Track and Turf installs synthetic turf for schools, universities, and municipalities and provides different actions you can take to care of your synthetic turf.
Cleaning and Sanitation
Regular maintenance of your synthetic turf field is necessary to get rid of debris, such as using a vacuum or leaf blower to clean up dirt and seeds and snow removal in the winter. This type of cleaning can be mitigated by forbidding the use of gum, tobacco, sunflower seeds, cleats with metal spikes, and other sharp objects, in addition to placing an abundance of trash cans around the facility. Involving athletes, coaches, and facilities managers with post-game clean-up is a great preventative measure as well.
Beyond surface cleaning, the artificial turf should be sanitized weekly or monthly to protect the players' and coaches' health. This disinfection requires special solvents, cleansers, and anti-microbial products to remove invisible particles and bacterial growth. You should strive to sanitize the field after every game and throughout the school day if it's used for physical education classes.
Understanding the Flow Patterns of the Field
Not all sports use the playing field equally. While all artificial turf sports fields need maintenance every 40 hours, knowing the usage patterns and high-traffic areas of the sport played on the synthetic turf field lets you focus attention where it is most needed. For example, the sidelines and extra-point kicking location are high-traffic areas on football fields, while the pitcher's mound and bases are high-traffic areas for baseball. To keep the same areas of the field from experiencing constant stress, consider doing the following:
Ask your coaches and staff to alternate which gates they open during events for evenly distributed traffic flow.
Rotate where activities are held on the field.
Lock up the facility when it is not in use.
Infill Maintenance and Replacement
Infill provides players with padding and shock absorption for safety and restores the resiliency of the artificial turf field for greater longevity. Groom the field before every game to loosen up the infill and move it around so that static electricity is reduced. In turn, the players' footing is improved, and the field's appearance is enhanced. Further, annually check infill levels, particularly in high tread areas, and refill where necessary so the benefits of infill are consistent across the entire field.
Please note that infill levels should be more frequently monitored in the first two years after installation. This is because turf fibers stand straight up when initially installed, which exposes the infill to more harm from outside elements. By the third year, and depending on the type of turf fiber used for your field, the fibers finish the cross-hatching process that weaves them together horizontally and greater protects the whole synthetic turf field.
Seeking Assistance for Repairs and Maintenance
Although a majority of synthetic turf field maintenance can be accomplished by the school's practices and diligence, some issues require professional help. To ensure your synthetic sports turf is ready for optimal performance and safe play, American Athletic provides turf maintenance, which includes patching, cleaning, and grooming. Professional help also makes general maintenance easier, such as dragging carpet fibers or measuring a field's hardness, which takes the burden off the school facilities managers.
To learn more about our synthetic turf fields for schools across New Jersey, Connecticut, Delaware, southern Massachusetts, eastern Pennsylvania, and Florida, contact us today.