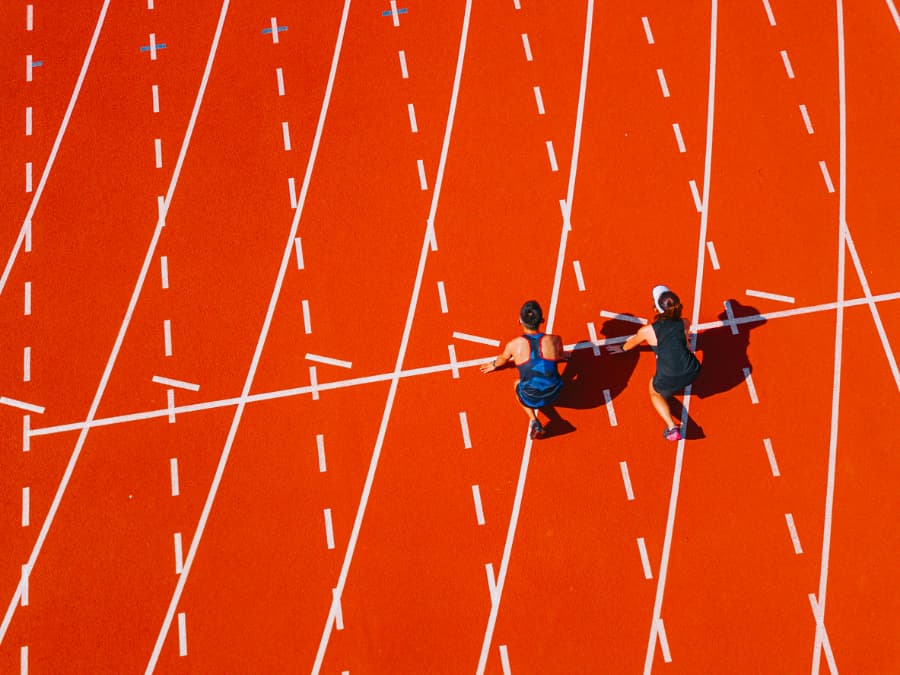 Without knowing what running track construction entails, it might be easy to assume all running track surfaces are the same. However, there are several surface options for running tracks. Knowing and understanding these options can help athletic and business directors select the one that's right for their athletic facility.
For the last 25 years, American Athletic Track and Turf has established itself as the East Coast's premier running track and artificial turf field builder and is a proud partner of Beynon. Here, we detail the differences between various running track material options.
The Anatomy of a Running Track
A standard-size running track is 400 meters around. It consists of two semi-circles on the ends, each with a radius of 36.5 meters, and two straights joining them that are 84.4 meters long. Most running tracks are either eight or six lanes, with each lane being 1.22 meters wide.
Running Track Material Options
The materials used to create a running track surface can have a drastic impact on athletes' performance and safety. Additionally, the type of surface used for these tracks is one of the biggest components in construction costs. This is why it's crucial to understand the various options available to schools and facilities. The different track surfaces are:
Synthetic
One of the most common choices for a running track surface is a synthetic track. With a slightly bouncy surface, synthetic tracks offer athletes great performance. They're made of rubber and bonded together with either latex or polyurethane. Synthetic running tracks feature a concrete or asphalt base underneath the surface. They're designed for all-weather functionality and perform well in less-than-ideal weather conditions.
Clay and Cinder
With the recent advancement in running track surfaces, clay and cinder tracks have become outdated. They're made from a combination of ash (cinders), carbon, and rock or clay. These materials are easy to identify based on their distinct look. The downside to this type of track surface is it's unusable during any kind of bad weather, which is why they're no longer used in new running track construction.
Asphalt
Regarded as the first modern track surface to be laid, asphalt running tracks consist of asphalt mixed with sand and rubber. This combo makes the track stiffer than other running surfaces. They tend to degrade as they age, often resulting in running conditions that can be dangerous for athletes, such as uneven surfaces.
Premium Running Track Material at American Athletic Track and Turf
When it comes to your new running track, trust the experts at American Athletic Track and Turf. Our work has earned us numerous awards, including multiple American Sports Builder's Association (ASBA) national awards. For all our projects, we use top-of-the-line products and materials, such as premium polyurethane or latex World Athletics/International Association of Athletics Federations (IAAF) certified synthetic track surfaces.
With locations in Southampton Township, New Jersey, and Haines City, Florida, we provide beautiful and functional products and services to athletic and business directors in the following areas: eastern Pennsylvania, southern Massachusetts, Delaware, Connecticut, New Hampshire, Rhode Island, Vermont, Florida, New Jersey, and Maine.
To demonstrate to our clients the faith we have in our services, we gladly offer enhanced warranties and professional repair and maintenance services for added peace of mind. Clients can take advantage of our SmartBuy Co-op Purchasing Program, which allows them to conveniently skip the conventional bidding process and receive the upgraded facilities they need while saving time and money.
For more information about the running track material we use or to request a quote, contact us today at American Athletic Track and Turf.